Vinyl Siding Replacement Options. Say goodbye to vinyl siding
Vinyl siding is perhaps the most common choice for homeowners, and this type of siding is also the most widely available.
It's affordable, durable, and a proven way to protect homes.
From insulation and durability, to projects that are seamless and waterproof, vinyl is a stunning choice for any homeowner wanting to upgrade their curb appeal.
Its flexibility makes it a good choice, although its simplicity does not make your home stand out from other homes on the block.
Recent siding innovations have resulted in new alternatives that offer more than what is possible with vinyl siding.
Your existing vinyl siding can last 15-30 years depending on how well it was installed, how well it was cared for and whether it was exposed to: sunlight, temperature, moisture, and other factors.
If your vinyl siding ever needs replacing, there are several replacement options available to you.
Fiber cement siding is a great alternative to vinyl siding.
It's fire-resistant and comes in many different colors, serves as an excellent moisture barrier against both air and water penetration, won't warp or shrink like wood, needs little or no maintenance and even in extreme weather conditions it still has a 50-year warranty.
Replacing your vinyl siding with hardie board (aka fiber cement siding) is a great investment in your home.
We offer fiber cement siding by James Hardie.
This weather-resistant siding is designed to stand up to all the elements and still provides the same look and style as a traditional vinyl siding.
Not only is it weather resistant but is also eco-friendly because it does not contain any harmful chemicals and can be recycled at the end of its life.
It's added durability and longevity make it so you can feel good about using eco-friendly materials that are better for the environment.
If fiber cement siding is not something you are considering for your vinyl siding replacement, consider wood siding.
Wood siding is also a great siding replacement option. But natural wood siding requires a lot of maintenance.
People tend to think that once the wood siding is up it is something they no longer have to think about.
The opposite is true; you do–you have to keep thinking about the needs of your home's exterior and make sure it is always getting the maintenance it deserves.
Even properly cared for wood siding will need to be refinished occasionally.
With that in mind, think about how much you want to invest now, and what sort of long-term commitment you want to make before you choose your new siding.
When it comes to long-lasting wood siding, Maibec is our top choice.
This genuine wood siding we offer is made of 100% wood and makes use of only the best cedar from Quebec, and American white pine, so you can rest assured that it will last for years to come.
You know that quality wood siding boosts the curb appeal of your home, but did you know are a ton of low maintenance & energy saving benefits of engineered wood siding?
Engineered wood siding was developed to provide the beauty of real wood without the high cost & maintenance.
Imagine your new home with beautiful natural wood grain and texture.
No painting! Engineered wood siding is the perfect vinyl siding replacement, as it comes with a wood grain look at only half the weight and cost of traditional wood.
It is also a great alternative for those who have moisture damage in their home, because it is highly resistant to rot and fungal decay.
We offer LP SmartSide engineered wood siding.
This synthetic wood siding has a higher R rating than natural wood siding allowing your house to be cooler in the summer and warmer in the winter.
LP SmartSide also features something called SmartGuard, a revolutionary zinc borate preservative that helps prevent fungal decay and wood destroying insects from destroying the beauty and value of your new siding.
And then there's composite siding.
Composite siding can last 30 years or more, and its solid aesthetic makes it an attractive choice for a wide range of homes.
It also has low-maintenance features—you can clean it with just soap and water.
And while you can paint vinyl siding, composite requires no maintenance to get the same look over a long period of time.
We offer Everlast composite siding.
Everlast siding is a great alternative to vinyl siding for your siding replacement needs.
Everlast composite siding never requires painting or caulking.
Heavily water resistant, it contains no organic material so it can't swell, bow, rot or be attacked by wood-boring insects.
This product will last for years before needing any maintenance of any kind making it incredibly easy to care for.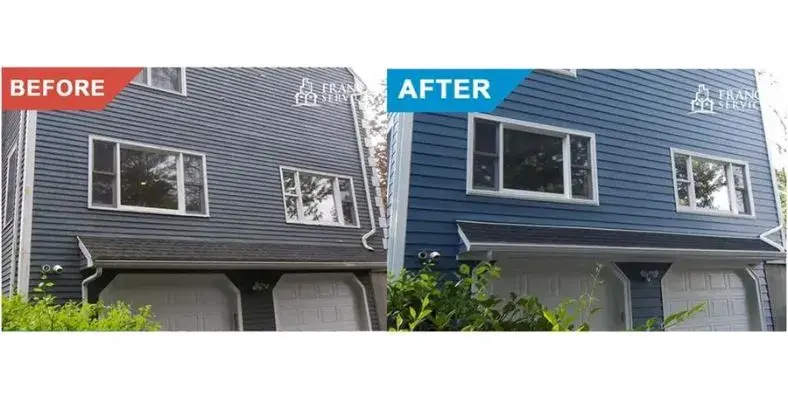 Of course you can also replace your existing vinyl siding with new vinyl siding.
The main benefits of going with vinyl siding again is that it comes in different styles and colors to match your home's personality.
Vinyl is also flexible and durable, a lot more so than aluminum siding.
It has quite the variety of texture and look from smooth to the wood grain look.
And when you need to change it,you can paint it your vinyl siding.
We at Franca Services provide property owners several options when it comes to vinyl siding alternatives.
At first, it may seem like an overwhelming task to change your home's exterior, but we are excited to help you and answer any questions that you may have regarding our work.
Our number one goal is customer satisfaction, and we won't stop until we reach it.
No matter what your siding needs may be, we can help.
We specialize in home siding replacement and new siding installation.
We only use the highest quality siding materials to ensure that your home is protected from the elements.
Call us today for a free estimate (508) 481-0150