TIRED OF STAINING YOUR OLD WOOD DECK?
A beautiful deck is a key asset to your home's overall curb appeal. A deteriorated, unhealthy or outdated deck can be an eyesore and undermine the value of your home.
Having your deck replaced with a high-quality composite decking will add value to your home, reduce maintenance and outlast other wood structures.
Wood is the most popular decking material, however there are many new options to choose from these days. For example, composite decks are made from recycled plastic.
And they don't rot, splinter, or fade like wood. If you want all the benefits of a wood deck – without the hassle – then composite decks are the way to go.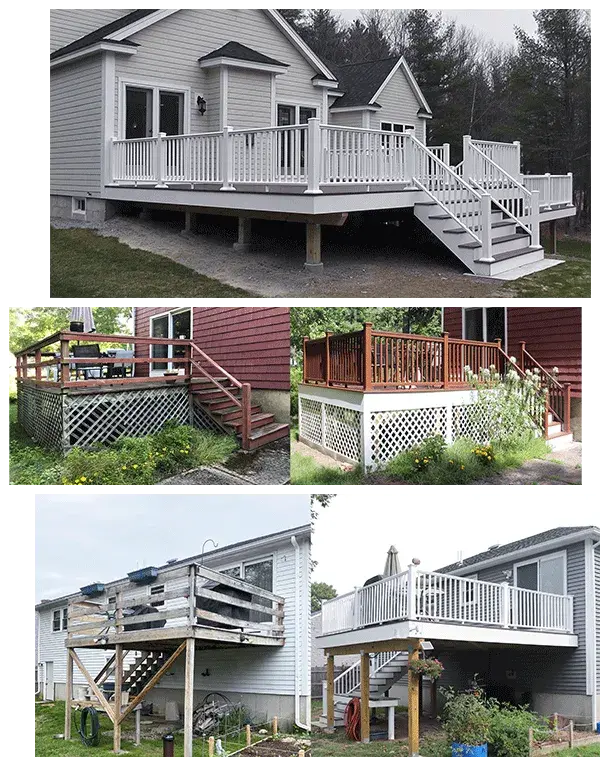 Benefits of using Composite Decking
Composite decking is often more environmentally friendly than traditional lumber-based wood decking.
And today's composite deck materials are much more aesthetically pleasing than earlier versions, which were typically grayscale and resembled plastic.
Composite decking is more scratch-resistant than wood, resists warping better and won't crack, splinter or fade in sunlight like wood does.
When it comes to your deck, you want something that resists wear and tear, stands up to weather conditions, and requires no maintenance.
Without question, composite decking is the go-to choice. Composites are produced by combining polymers with wood and other natural fibers.
This combination creates a sturdy product that resists shrinkage, cracks, fading and decay – all the things that can affect your deck over time.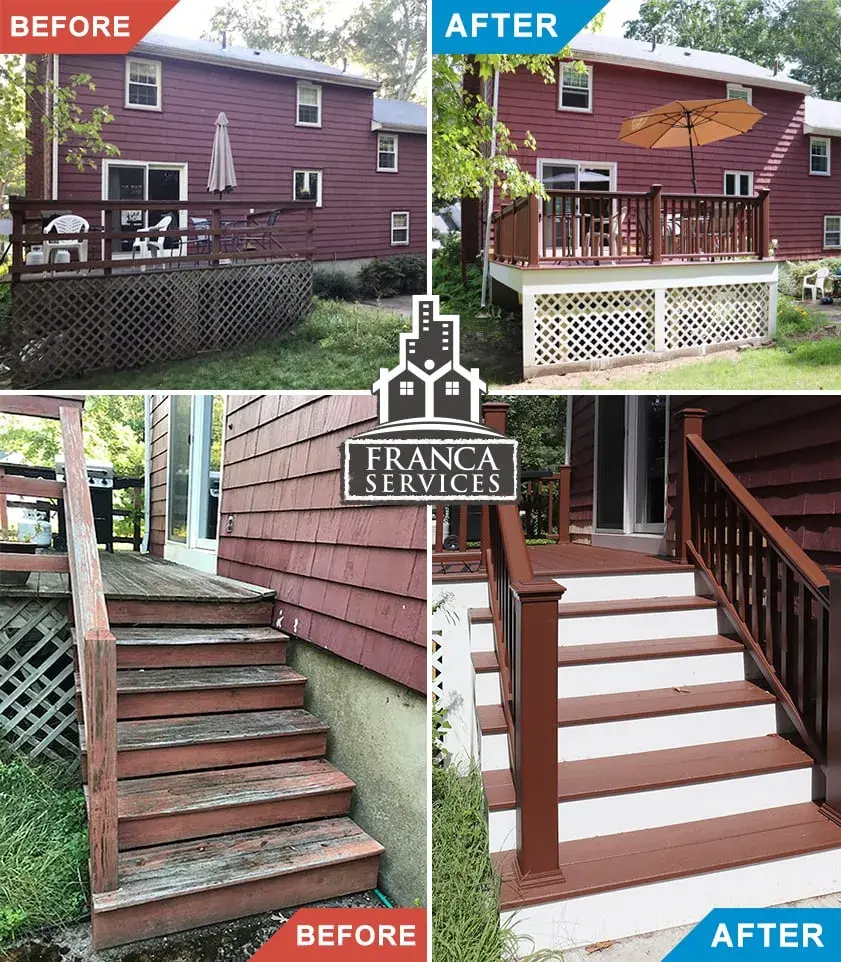 Even the smallest wood deck can take a weekend or longer to sand down and re-stain...
And that's why more Massachusetts homeowners are enjoying the vast benefits of composite decking installations.
Not only are new deck constructions crafted from composite materials extremely low maintenance, but they are also fade-resistant, stain-resistant and highly resilient to Mother Nature's harsh elements, including snow!
Affordability, durability, and easy maintenance are only a few reasons to consider composite decking over wood, and there are several more to keep in mind.
Unlike wood, composite decks naturally resist the tendency to split, scratch, and absorb water, so your deck looks new for decades.
Even though composite decking isn't actual wood, today's vast options provide the natural look of wood.
Matching gates, stair systems storage systems, and so much more can be customized to give you just the look you want.
"My wife and I would certainly recommend Franca Services and plan on using them again in the future, which is the highest recommendation we could give. Thanks, Alan!" - BLAINE A.