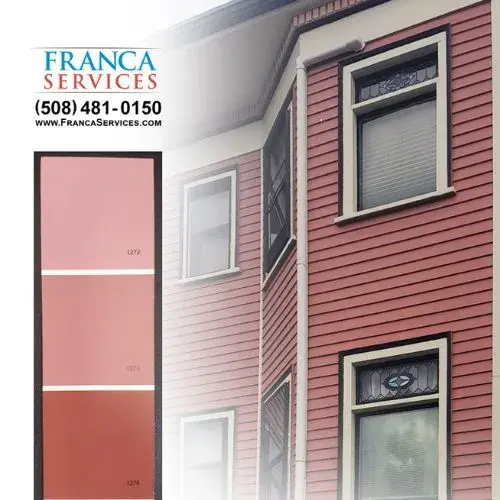 In your home, color communicates
Franca Services offers professional interior and exterior color consultations to make your home beautiful.
Whether you want to paint inside or outside the lines, we can help you make the right interior or exterior color choices.
Building on more than 18 years of interior and exterior color expertise, we have the the information you need to choose your color wisely, as well as practical solutions to support your decisions.

Our thorough process guarantees your 100% satisfaction
---
Step 1
Project manager reviews project with customer.
Project manager performs walk-through with customer to inspect all exterior utilities and house conditions.
Job begins with regard to customer's convenience and our availability.
Step 2
Our surface pre-prep ensures the best adhesion of the paint.
Franca's power washing ensures that your home's exterior is free of dirt, mildew and mold.
Step 3
We lay out drop cloths as needed
We scrape and sand any remaining loose and peeling paint, depending on the condition of the siding. We use power sanding discs or orbital sanders.
We mask windows and doors to ensure the painting edges will be as clean as possible.
We remove lights and other decorative items before painting begins.
Step 4
We seal any exposed wood with oil-based primer using an airless sprayer, brush, or roll, depending on the job.
Step 5
After our preparation process is completed to your satisfaction, we apply paint or stain by brush, roll or airless sprayer.
We always use the back-brush technique on the first coat and then spray on the second coat. We only use the highest quality products.
Step 6 - Clean Up
We remove all job-related supplies and equipment.
We re-install your decorative assets.
We label touch-up paint and leave it for our customers' convenience.
Step 7 - Final Inspection
Project manager performs a walk-through with customer to certify that all areas are properly painted and all utilities are functioning as during the pre-inspection.
If necessary/requested by customer, we do touch-ups immediately according to our "inspection list" before our staff leaves the job site.
Customer reviews and approves inspection list.
Our "Quality Control Department" will contact the customer to vertify 100% satisfaction with our service.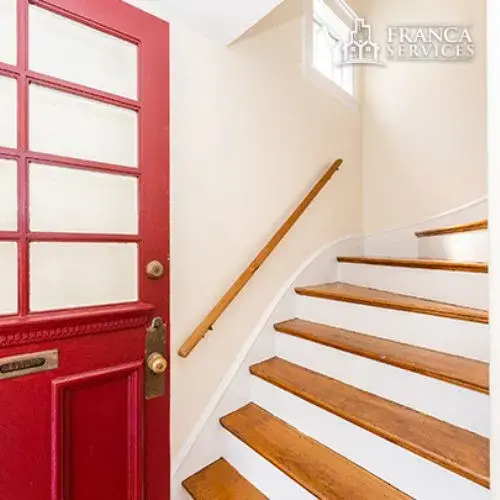 We don't just do exterior house painting.
Interior painting can be a hassle and having to deal with room by room makes it even more of a hassle.
We do all the painting for you, leaving you with time to entertain yourself or spend one on one time with your family and friends.
With our interior painting service, no matter how big or how small your home is, we are able to coat even the tiniest corners of your home.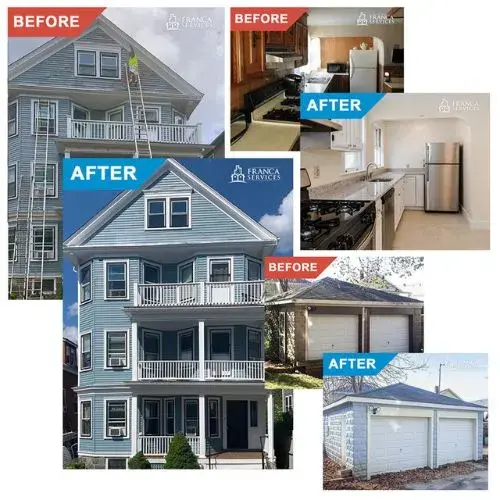 Why Choose Us
We have been painting both residential and commercial properties since 2003: we clean thoroughly, pay attention to the finer details, and often consult with our customers on color schemes.
We take great pride in our work and our customers continue to reward us with their repeat business.
19+ years in the business!
We are Fully Licensed & Insured
Accredited BBB business with an A+ rating.
Family Owned & Operated.
Working on improving customer satisfaction every day!
"We just used Franca Services for exterior painting and carpentry. My husband and I were very pleased with the work and the professionalism of Bryan and his crew. He was responsive from start to finish and eased any concerns. I was very pleased with the final product and highly recommend this company." - DELVINA L.