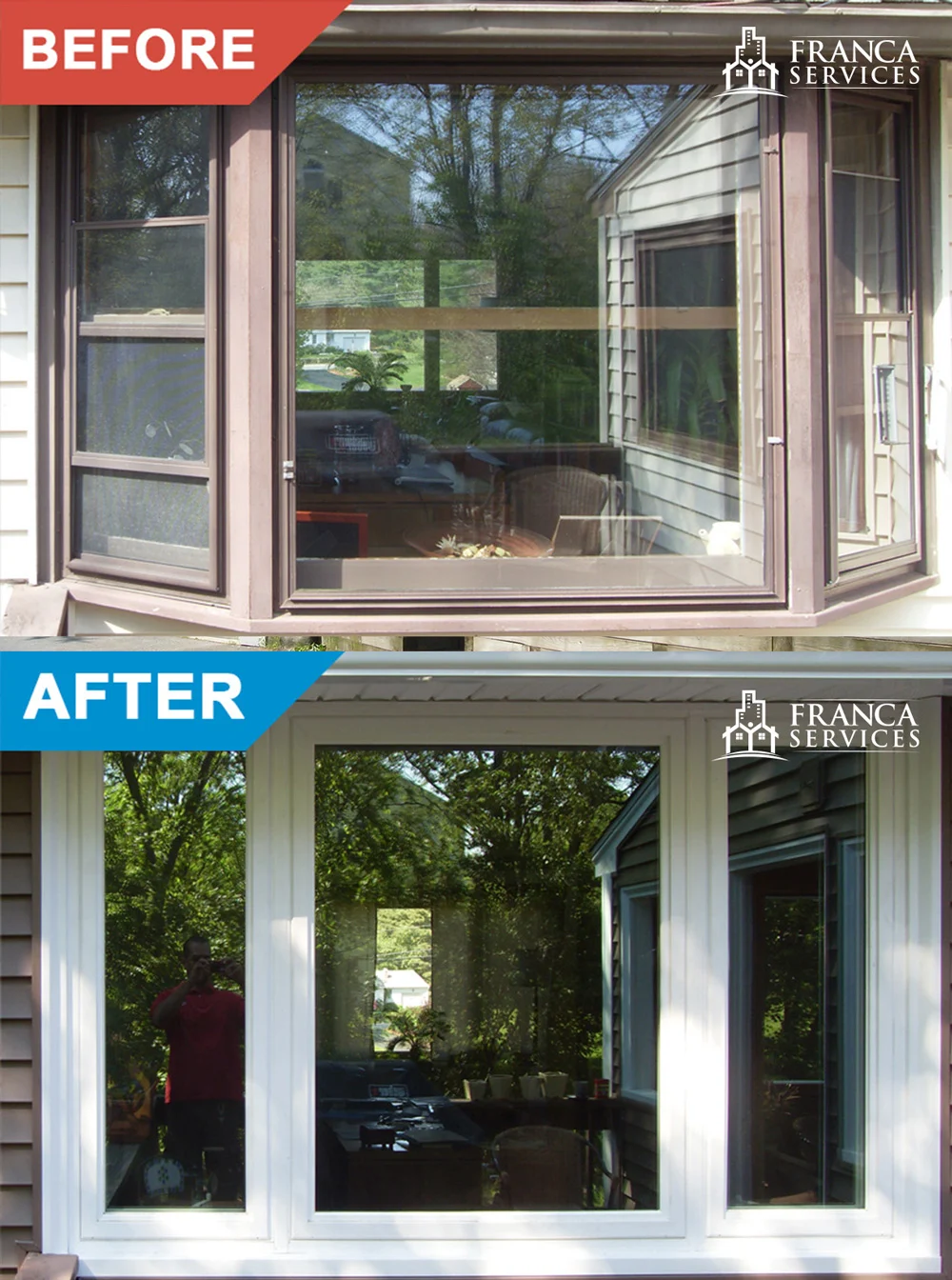 Window replacement is done when the old window needs to be removed from the house in order to place a new one that has as main advantage being energy efficient due to its double glass containing a gas named Low-E & Argon between them.
This new window will help to keep the temperature inside the house, whether it is extremely cold or hot outside, the coolness and warmth will be maintained indoors depending on the season, being cozy for the family.
Replacing a new window requires someone who has knowledge and experience, it cannot be done by any person, or serious damages might affect the house and those who live there.
Franca Services has been working with window replacement in Newton since the moment our company was founded, 19 years ago! We have been helping people from Boston and its region to achieve the home of their dreams since then.
As we have been in the market for a long time, we know the perfect moment to hire a window replacement service, which are from March to May and from September until the first week of December, months that do not suffer from extreme weather conditions, when we can work properly, and the family feels 100% comfortable.
What is the most cost-effective window replacement?
The most cost-effective window is the vinyl window! As the technologies have improved, this kind of window is of a good quality and affordable to any pockets at the same time.
Although a vinyl window is a material similar to plastic that contracts and expands according to temperature, if you have an energy efficient window and a vinyl is being used as a frame around it, that vinyl will lose quality because of its temperature changes.
What type of window is most energy efficient?

For a window to be considered as energy-efficient it needs to improve the energy efficiency of a house, helping to maintain the heat outside and cooler inside during summer and the cold outside and the heat inside during winter.
To be energy-efficient the window needs to have a coefficient called U-Factor that measures the insulation. So, if a window has this coefficient below 0.30, it has great insulation. The lower the U-Factor, the better the window insulates.
It is not just the glass that makes a window a great insulator, the frame that goes around it is a crucial part either. Taking this into account, a triple-pane glass with fiberglass frame will be the most energy-efficient option for a house.
Why Choose Franca Services for Your Window Replacement
Our company is well-known for being one of the best window replacements services from Newton and its region, delivering just the best projects of window replacement, ensuring our clients are extremely happy with the service provided.
Our team is composed of the most experienced and professional staff, people who have received great training and were taught how to work with efficiency and with advanced methods. They are also prepared for any challenge or potential problems.
We will deliver only services of extreme quality, using the best materials that we get from our trustable suppliers. And their price is budget friendly, offering a wide range of window options for an affordable and competitive price.
Whether you need help replacing your old siding, repairing the existing one or a new installation, send us a message or call us to request a quote or to ask any questions. We will be pleased to offer you a job of quality and for a fair price, one of the best in the market.
How to Get Started with Your Window Replacement Project?
If you need window replacement project in your house in Newton is easy and simple, just send us a message and request a quote online or do it by phone. We can schedule a free in-home consultation or just talk about your main doubts.
We will be pleased to offer you a project with excellence, with new windows and with a warranty!
"I recently had my windows replaced by Franca Services in Newton MA, and I couldn't be happier with the results. The quality of their workmanship is top-notch, and the new windows have significantly improved the look and energy efficiency of my home. The contractors were professional, friendly, and efficient, completing the job in record time without compromising on quality. I highly recommend Franca Services for anyone in need of window replacement. They truly exceeded my expectations!" - John S., Newton MA