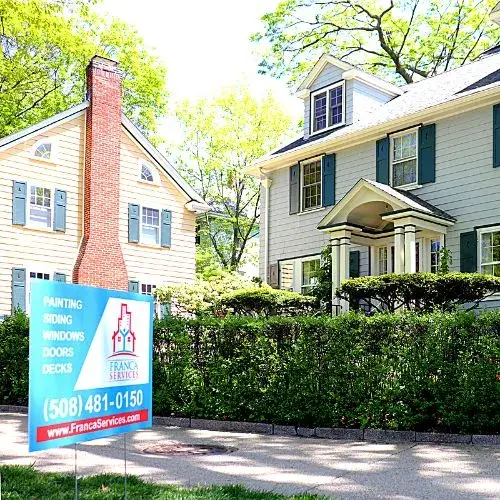 At Franca Services, we have established ourselves as experts in the field of painting services in Newton, MA. Whether it's interior, exterior, or house painting, our Newton Painting Services team is renowned for delivering exceptional results. With a rich history spanning over 19 years, we take pride in our longevity and the trust we have earned from our clients.
Painting is a crucial aspect of enhancing a home, and it requires skilled professionals who can ensure the investment is worthwhile. Our team consists of highly competent individuals who will not only protect your home and family from the elements but also tackle any potential issues that may arise.
Selecting the right painting company in Newton, MA is a significant decision if you seek excellence, weather resistance, and an increase in your property's appeal and value. We prioritize unparalleled customer satisfaction and have a track record of successfully completing numerous painting projects, leaving our clients in Newton, MA, and its surrounding areas delighted with our work.
We possess an in-depth understanding of the local area, including its unique weather patterns, enabling us to determine the optimal time to initiate projects. Furthermore, we are fully committed to the Newton, MA community, diligently adhering to all necessary regulations, possessing the required legal documentation, liability insurance, and workman's compensation insurance.
Our strong reputation as a professional painting service provider has been carefully cultivated over the years. We strive to maintain this reputation as our primary objective, ensuring potential clients can place their trust in us without hesitation.
Why Choose Our Painting Services in Newton
At Franca Services, our team comprises highly experienced professionals who excel in their respective roles. From knowledgeable vendors who attentively grasp our clients' desires and translate them into reality, to skilled artists who create detailed sketches and contracts, and project managers who maintain direct communication with our customers while overseeing our team of painters.
With a remarkable presence in the market for 19 years, we have successfully completed numerous painting projects, including residential, exterior, and interior undertakings, throughout Newton, MA, and its neighboring areas. Our commitment to excellence and customer satisfaction remains unwavering.
We prioritize the utmost care and attention to detail in all our painting projects, ensuring our clients' peace of mind. We employ the finest materials, employ the most effective methods, and utilize top-notch tools. Moreover, our dedicated team consists of individuals who possess a deep understanding and expertise in their craft, guaranteeing outstanding results.
We believe that delivering exceptional service means going above and beyond for our clients. Therefore, we take great pride in providing a worry-free experience, allowing our clients to trust that their painting project is in capable hands.
Interior Painting Services in Newton
Interior painting services encompass the application of color to the walls of residential or commercial spaces, creating a significant impact on the overall environment. By altering the interior aesthetics, one can effectively breathe life into a property, reflecting personal style, aspirations, and mood.
When it comes to interior painting, it is crucial to utilize paints that offer excellent coverage, ensuring a uniform and flawless finish. Additionally, the chosen paint should prioritize the well-being of those who frequent the space by avoiding the use of harmful chemical substances. This consideration not only enhances the safety of the occupants but also promotes a healthy indoor environment.
In addition to its functional benefits, the paint selected for interior projects also plays a vital role in providing an appealing aesthetic appearance. The right choice of colors and finishes can transform the ambiance, elevating the overall atmosphere and creating a visually pleasing setting.
Whether it's a residential home or a commercial establishment, interior painting services have the power to enhance the space, capturing the essence of one's dreams and desires while promoting a positive and welcoming environment.
Exterior Painting Services in Newton
Exterior painting is a valuable solution when your house or business building is plagued by issues like mildew, fading paint, or when you simply desire to refresh its appearance and make a positive impression on the neighborhood or potential clients.
When it comes to exterior painting, it extends beyond just the walls. It encompasses a comprehensive transformation that can involve various elements such as sidings, windows, doors, trims, porches, and more. These surfaces can be skillfully coated with a fresh layer of paint, allowing for a complete color change that rejuvenates the entire exterior of the property.
By addressing concerns like mildew growth and faded paint, exterior painting not only enhances the visual appeal but also contributes to the overall maintenance and longevity of the building. It creates an inviting and attractive look that leaves a lasting impression on both residents and visitors.
With exterior painting services, you have the opportunity to breathe new life into your property, creating a vibrant and welcoming exterior that reflects your personal style and creates a positive impact on your surroundings.
Comprehensive House Painting Services in Newton
House painting services encompass both interior and exterior painting projects, resulting in a swift enhancement of a house's appearance. Whether it's the interior or the exterior, house painting has the ability to transform the space into a visually appealing and aesthetically pleasing environment.
When it comes to house painting, it goes beyond just applying paint to the walls. Every element of the house, such as windows, trims, doors, roofs, and railings, can be given a fresh new coat of paint, rejuvenating the entire property. This comprehensive approach ensures that every aspect of the house looks revitalized and vibrant.
Interior house painting can create a beautiful and inviting space within the home, reflecting personal style, and enhancing the overall ambiance. It provides an opportunity to add color, texture, and character to each room, making it a more enjoyable and visually appealing living environment.
On the other hand, exterior house painting can greatly impact the curb appeal and overall attractiveness of the house within the neighborhood. By applying a fresh coat of paint to the exterior surfaces, including doors, windows, trims, and even the roof, the house can regain its luster and stand out in a positive way.
Through house painting services, both the interior and exterior of a house can be transformed, breathing new life into the space, and making it look as good as new. The combination of great aesthetics and attention to detail ensures that the house becomes a place of beauty and pride.
The best painting type for houses in Newton
Whether you are considering an exterior or interior painting project, there are different types of paint that should be used on each one. Paints for the indoors of a building have a different composition from those for the outdoors, that is why choosing the correct one is so important.
The best types of painting for interior and exterior are Latex and Acrylic, respectively, both containing some differences in their composition in relation to the chosen surface, so reading the label is always essential before buying.
Latex paint is the best water-based option for indoor jobs, because it dries faster and it is easy to clean everything up, needing just soap and water to do the job. And, as it is less durable, it is recommended to use on surfaces that don't see a lot of wear and tear, like walls and ceilings.
For exterior painting projects it is advisable to use acrylic paints. In its composition there are chemicals that make the paint being thicker and more viscous, leading to a higher elasticity, which is good for places that suffer a lot from hot temperatures during summer and cold temperatures during winter, like Newton MA, allowing its contraction and expansion without damaging the painting project.
Both can be used for interior and exterior painting projects, but when picking them up you should choose specifically the one designed for the surface that will be changed.
Painting Services in Newton MA with Franca Services
Did this article help you to understand more about painting services in Newton MA and its types?
Have you discovered your house or commercial business are in need of an interior, exterior or residential painting project?
Contact us for a free-estimation and consult our lead time! We would be pleased to help you and your family.
Let us know and enjoy our specialized services in the comfort of your sweet home.
Robin D.





"Recently, we collaborated with Franca Services on a project for Newton Painting Services, and it was an outstanding experience. Right from the preliminary discussion to the final execution of the job, their crew displayed remarkable politeness, expertise, and proficiency. They assisted us in selecting an ideal color for our residence and ensured every detail was carried out to our contentment. Our home now appears completely rejuvenated, and we're incredibly satisfied with the results. I would readily endorse Franca Services to relatives and acquaintances for their exterior painting requirements."
Sarah M.





"During the previous summer, we took the decision to refresh our home that had been long overdue. We engaged Franca Services for exterior painting work in Newton, and the outcome left us immensely satisfied. Their crew was timely, proficient, and had a keen eye for detail. They meticulously prepared our home, and the end result was absolutely breathtaking. Even our neighbours have noted the impressive transformation of our house! I would wholeheartedly advocate for Franca Services to anyone requiring exterior painting services."