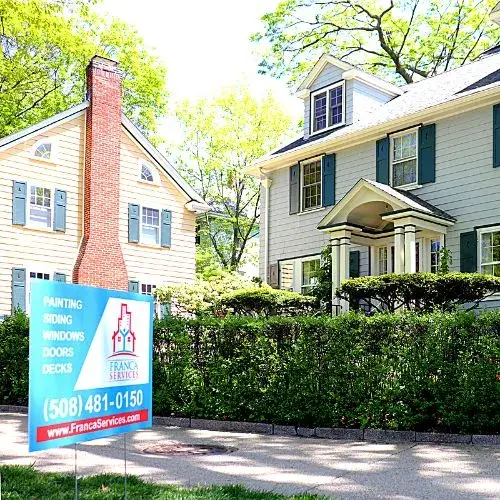 At Franca Services, we know how to work properly when it comes to Cambridge MA painting services, whether it is just interior, exterior, or house painting services, our team is known to be one of the best. We are proud to have been in the market for over 19 years making history.
A painting job is an important part of a house, and it must be done by the most skilled people, those who are worthy of investment and who will keep you and your family distant and safe from weather elements and any further problems.
Choosing the right Cambridge MA painting company for your project is an important decision if you want a job made with great excellence, weatherproofing and an increase in your homes and business' appeal and value.
We assure our commitment to unparalleled customer satisfaction; we have delivered many successful painting projects and pleased all customers of Cambridge MA and its surrounding regions.
We know properly the local, the weather that affects its region and the best time of the year to start projects.
Besides this, we are 100% committed with the community of Cambridge MA and with all the bureaucracy that involves its region, always following the requirements to work, having the legal documentation, liability insurance and workman's compensation insurance.
We have built our strong reputation throughout these years to be well-known for our professionalism, and this is our main purpose, so our potential clients can trust us with no doubts.
Understanding the Importance of Professional Painting Services
Feeling good inside your own home or your business or looking at the building and being happy with the aesthetics and ambiance is what everyone desires, after all, it can be the place that you spend the most time or where attracts the most people.
A service painting in Cambridge MA can give a totally different look to a room or a building, whether wanting a comfortable environment, or an elegant one, or even just a simple kind of paint, nothing exaggerated, just to enhance the space a little bit.
Or, if your building is suffering from mold, cracks, infiltration and so on, a painting project must be required. In the end, it is not something just aesthetic, it might improve life's quality.
Certainly, a painting job can be done as a DIY project, but it is important to bring up that a specialized company will do the paint job better than no-one else. The company has the right knowledge and will do it with 100% of efficiency, without any possible worries or mistakes.
The right advantages of hiring a professional painting service in Cambridge MA are expertise and skills, right preparation, time saving, quality and non-wasting materials, attention to the finish and safety.
Expertise and skills
If your purpose is having a painting service with high-quality results, a professional company is the only solution! They have the expertise, skills, and knowledge from the moment they understand what the client wants, until the surface preparation, the techniques when applying the paint and finishing the service.
Their clinical eye and special abilities are extremely important for an excellent job and finish.
Right preparation
Preparing the whole surface which is going to receive a paint is the first step to have a painting service done with quality and being capable of lasting for a long time without worries.
It is necessary to identify any cracks, holes, and uneven surfaces, ensuring that they will be cleaned, sanded, or primed properly before receiving the paint.
Time saving
We know that time is something that almost nobody has, it is precious, so it is not worth worrying about things such as tools, equipment, techniques, and methods when hiring a professional company to do the service. They know how to execute a well-done job within a reasonable timeframe.
Quality and non-wasting materials
Professional painters have materials in hand that have a superior quality that might not be available for the general public, besides working with specialized suppliers that can provide the best brands and their products.
Apart from high quality materials, they know how to work properly without wasting products and paint, everything to provide a job with quality and fair price for you.
Safety
Finally, working with safety is the most important part of any job and a painting project involves many things that can be harmful to our health, like heights, chemical products, and equipment.
A professional receives the right training to work properly with safety to reduce the risks of accidents and companies carry insurance coverage, ensuring that the client can be at peace.
Residential Painting Services in Cambridge MA
Residential painting services involve either interior or exterior painting of a house, which improves its appearance quickly, bringing a good-looking space inside home or among the neighborhood with its great aesthetics.
Residential painting is not just done on the walls, every window, trim, door, roof, and railings can receive a fresh new coat of paint, making everything looks brand new.
Exterior Painting Services in Cambridge MA
Exterior painting services is what is done when your house or your business building is suffering from mildew over it, when the old painting is fading or when you just want to give a good new look among the neighborhood or to invite clients to come in.
Here we are not just talking about the exterior walls, but all types of sidings, windows, doors, trims, porches and so on can be color-changed.
Exterior painting services are done with a special paint formulated to handle mildew and fading, being resistant to environment effects, consequently lasting longer than an ordinary paint.
Interior Painting Services in Cambridge MA
Interior painting services involve adding color to the indoor walls of a house or a business to make all the difference in the environment. Changing the inside can transform the property, bringing your dreams, hopes, personality, and mood.
The type of paint used to do these services has a good coverage, does not contain chemical substances that can be harmful for those who are frequenting the space and provides an aesthetic appearance.
Why Choose Franca Services for Your Painting Needs in Cambridge, MA?
Franca's team is composed of the most experienced people, starting from the vendors who are responsible for understanding the client's wishes and reproducing it for those people responsible for creating the sketches and contracts; the project manager responsible for directly contacting our customers and managing our painter's crew.
In our 19 years in the market, we have delivered many painting projects such as residential, exterior, and interior with excellence and satisfaction through Cambridge MA and its surrounding areas and counting.
We assure that all our painting projects are concluded with attention and always caring for our clients, ensuring they will be free of worries, always working with the best materials, methods, and tools, and, of course, done by people who really know and understand what they are doing.
John K.





"We recently worked with Franca Services for an exterior painting project in Cambridge, and the experience was fantastic. From the initial consultation to the completion of the job, their team was courteous, knowledgeable, and efficient. They helped us choose the perfect color for our home and made sure everything was done to our satisfaction. Our house looks brand new, and we couldn't be more pleased with the outcome. I wouldn't hesitate to recommend Franca Services to friends and family for exterior painting needs."
Sarah M.





"Last summer, we decided to give our home a much-needed facelift. We hired Franca Services for exterior painting in Cambridge, and we couldn't be happier with the results. Their team was punctual, professional, and detail-oriented. They took great care in prepping our home, and the final result was simply stunning. Our neighbors have even commented on how great our house looks now! I highly recommend Franca Services to anyone in need of exterior painting services."