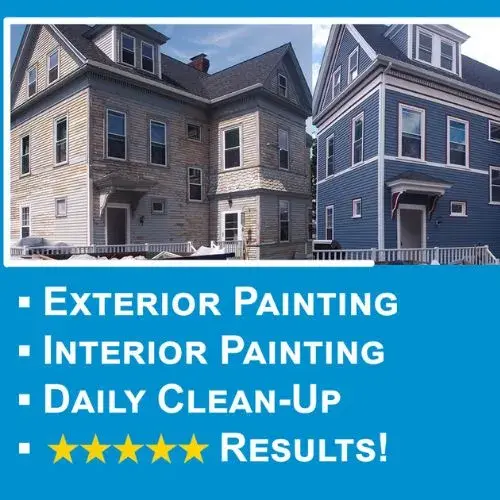 Painting services at MA
As the years are coming and going, our tastes for some things have changed, and what was beautiful some day in the past for you, perhaps it is not today.
Or, throughout the years, some damages are inevitable, such as environmental damages or those caused by our own use.
House painting services fit in both situations above! The color of your home might be out of date and what was matching with your taste in that time, can be a little bit old for you right now. Changing sometimes is necessary to transform a home as wished.
Besides this, when a constructed house is purchased, not everything is like wanted, requiring some further renovations and replacements, and the color of the exterior and the interior are the ones most susceptible to changes.
Perhaps you might be very pleased with the interior and exterior painting of your home, but disturbances can happen causing damages to your house painting, being bad for the aesthetics of a home and even to the family who lives there.
When thinking about a house/residential painting, it is good to take into account hiring a professional to do those services either for the interior or exterior. These people have the right knowledge, capacity and efficiency to work properly, sparing a lot of headaches.
We are going to discuss and show the benefits of hiring professional painters for the job of making your house look good again free of issues or whether making it cozier, brighten up or more elegant.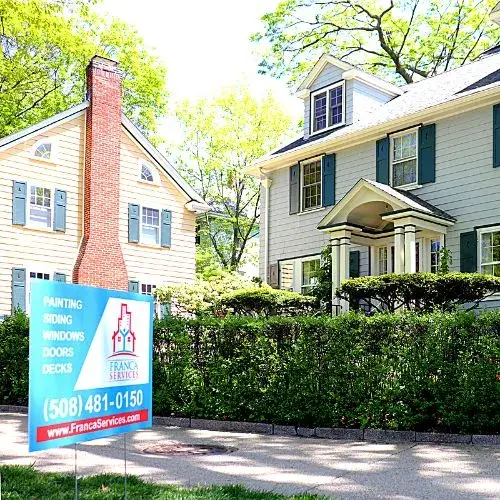 The benefits of hiring professional painters for the job
A lot of people think that painting a house is an easy DIY (do it yourself) job, and it can be, but the truth is that this project is a little bit more complicated than it looks like. Painting is a job that requires high skills if you want a long-lasting painting with a well-done finish.
A great and gorgeous interior and exterior painting needs experience and knowledge to be done; without the right preparations, techniques, paints, according to the area, you might lose more money afterwards than saving it when doing the job yourself.
So, the benefits of hiring professional painters for the job are: quality painting job, saves time and effort, cost-effective and safety and health.
We can help you pick a color that best matches your style, and an exterior paint product that will be tough enough to stand up to any weather Mother Nature can throw at it.
Quality Painting Job
A professional painter has the expertise, skills, and techniques to paint a whole house with extreme quality and, in the end, even the most meticulous person will not find any defects.
They know exactly how to tape all the edges and to remove all the furniture and to protect the fixtures and its accessories properly so nothing will interfere with the painting or be damaged. And they will use the correct brush or roller and tools.
First of all, the old paint needs to be scrapped, all the holes must be filled, and the rough areas must be sandpapered. After that, they will choose the best primer for walls and which type of paint is correct for the surfaces and the room.
The painters will prepare all the walls before any coat of paint, so it can adhere perfectly and easily on them, leading to a smooth painting, without any marks or cracks and one that will last for a long time.
We cannot deny that a professional painter knows exactly how to work and which steps must be followed, it is something that they have been doing for a long time, so they will be right prepared for any misfortune and work with excellence.
Saves Time and Effort
Everyone is too busy nowadays with their jobs and responsibilities, and for those who do not have plenty of free time, there are problems finding an available moment to paint their home, a task that requires a lot of time, preparation, and effort.
It is not just to take a brush and a can of paint and simply do painting services; all furniture must be moved, all the decorations need to be placed in a different room, all edges have to be taped.
Furthermore, choosing and buying the right primer and paint takes a while and all the other supplies as well. Considering everything above, imagine the time it takes to actually paint all the walls and wait until they dry.
After all the project is done, we have to take into account all the time that we are going to spend cleaning everything up and to move the furniture and decorations back to their right places.
Hiring a professional can be more expensive than doing it yourself, but this project can be a stressful one, and a company painter can help to save a time that is precious for you. While sparing your moment, you can end up saving more money in the long run with a capable professional.
Cost-Effectively
Having someone to do your residential painting project can look more expensive than doing it by yourself, but in the long term it is very cost-effectively.
It is necessary to consider that a professional owns all the equipment and tools to do the job, some of which have never been heard by the homeowners; and why to buy something that probably will be used once in a while?
Besides this, they have suppliers in the near location that can provide a better range of paint for all tastes, and you don't have to pay a lot of money for it; being accessible for any budget.
We also have to take into consideration the team members that the professional painting company has, people who will help them to get the project done quickly.
Safety and Health
Safety and health are the most important benefits a professional painter can bring to you, as paint and primer are chemical products and can release something toxic and dangerous for the family and pets.
They will have precautions, like using masks, glasses and any other equipment when applying or removing paints.
Besides this, there are some physical risks when painting a house. If it is an exterior painting project for example, ladders must be required to be used; and just a person who has experience and safety materials can be able to concentrate and do a good job at the same time.
Unfortunately, someone who does not have the knowledge and expertise, can hurt themselves, their family and pets. A professional painter knows exactly where they are stepping.
Different types of painting services at MA
Painting services are divided in different types, it all depends on which kind of project that professional painter is specialized in, as this job is made in large scales and involves different buildings.
The principal types of painting services they can offer are: house painting services, exterior painting, interior painting and eco-friendly painting services.
House Painting Services at Massachusetts
A house painting service includes either the exterior or interior painting of a home. After some years, a new coat of paint might be necessary to bring a new look to a home. The exterior painting can make your house look better in the neighborhood, calling attention for itself and increasing its value.
Besides this, it is inevitable that throughout the years the old exterior paint suffers from natural elements, requiring a new paint service to protect the house and the family.
We can consider the same for interior painting; we know that sometimes it tires the people from the house to look at the same color for many years, so some changes are well-welcome to have a cozy, elegant or natural appearance.
Furthermore, we can take into account as a house painting services the changes of color in relation to windows and doors, they can also be renovated as the homeowner wishes.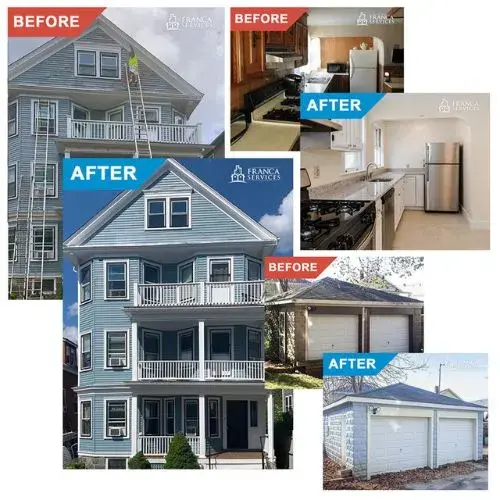 Exterior Painting at Massachusetts
Exterior painting is one of the most required jobs of a professional painter and this happens mostly because the whole outside structure of a house is exposed to natural elements, letting the building vulnerable.
A fresh new coat of paint does not have just the duty of bringing beauty and a brand-new look to a house, it is further than that, it helps to protect the outdoor woods against effects caused by the environment, such as water, insects, moisture and rot.
This type of painting service is not only for houses but for commercial business as well; and it is equally beneficial for both buildings, boosting their appearance, increasing their value with protection at the same time.
Interior Painting at MA
Interior painting services is another one considered very important for houses and commercial business, because, as we said above, a fresh paint job can increase the building value and boosting the appearance of a business can bring even more clients.
When hiring a professional painter to do this type of services, whether it is a house or a business, they and their team can help to choose the right color for each space, a design that will reflect the owner's taste and style.
Nowadays, being eco-friendly is one of the most important things to consider saving our real home; and many homeowners are considering their environmental impact and restructuring their lifestyle, like using LED light bulbs or driving hybrid cars.
Whereas it is possible to help the planet when choosing the paint of a house. An eco-friendly paint is produced to have few or zero levels of VOCs (volatile organic chemicals), being non-toxic for everyone and being water-based.
Apart from being healthy for those who apply the paint and those who frequent a building painted with this type of service, it has minimal environmental impact, reducing the carbon footprint, it is biodegradable and there are cost-effective options.
Why choose painting contractors at MA with Franca Services?
Franca Services has been in the market for over 19 years, and this is how much experience we have! We believe it is essential to create a great relationship with our clients, where there is a lot of reliability and professionalism to ensure their wishes.
Our team has only trained and skilled painters, prepared people to deal with any challenge or even misfortune. They have the right knowledge, experience, and efficiency to deliver a job with quality, excellence and quickly, without any disturbances.
We are committed to always provide you with the best products that our suppliers can provide, using advanced painting techniques and equipment.
You can request a quote on our website or contact us for any free consultation, we will be pleased to help you achieve your dreams for a fair price.
We understand that building a deck or patio is a big investment and we want our customers to know that we are here for them to help accomplish the project in a timely and affordable manner.

Our team has many years of experience in all phases of deck and patio projects and we can create a one-of-a-kind outdoor space in your own backyard.