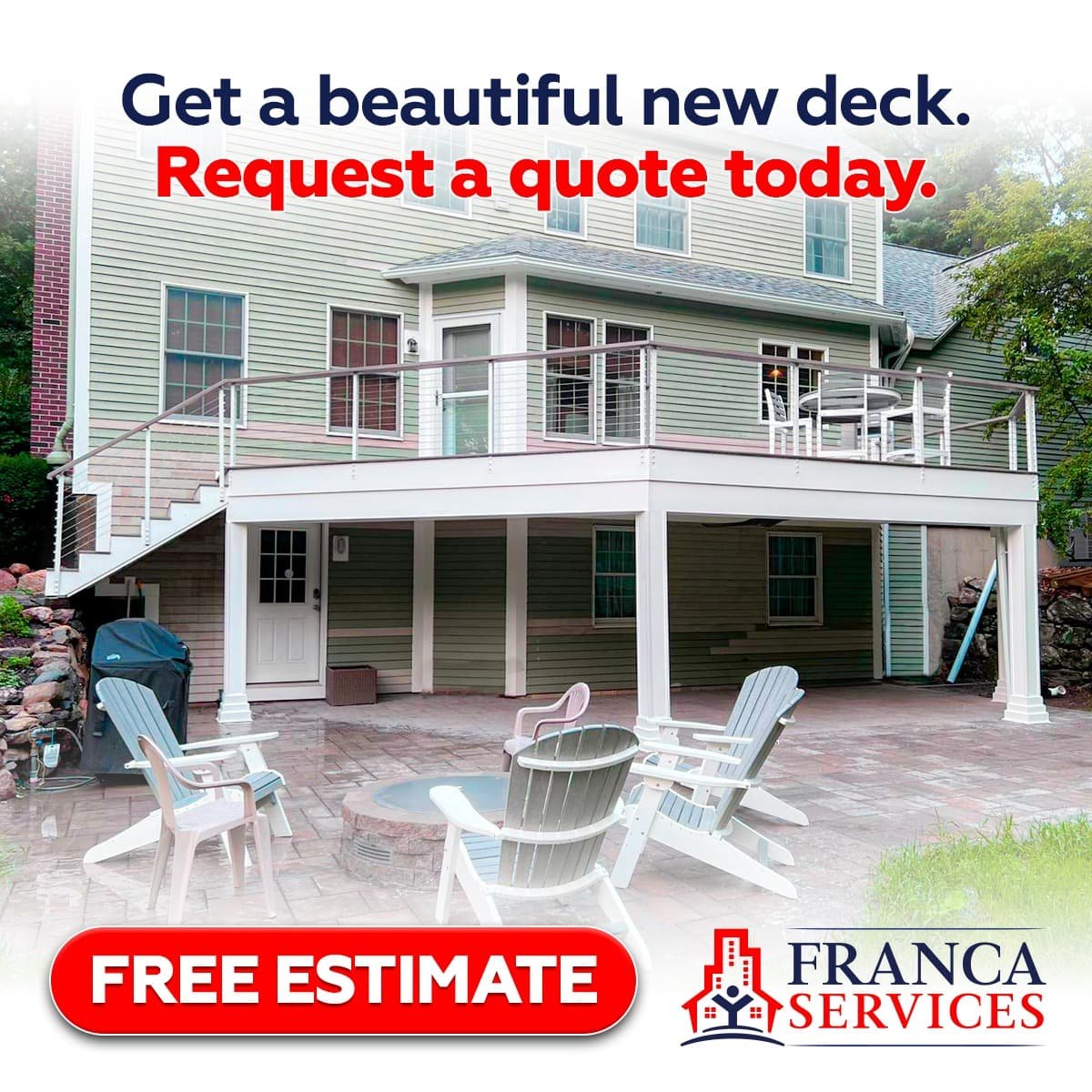 Hiring a deck builder in Framingham MA is the best option if you want a job made with efficiency, beauty and with a warranty that no problems will disturb you and your family.
As Framingham suffers from extreme weather conditions, being hot during summer and cold during winter, we recommend scheduling this deck project throughout March to May and September to November.
Our company, Franca Services, has been in the market for over 19 years building and replacing decks, and this is how much experience we have! And since then, we are helping our customers and making them happy.
Send us a message and request a free quote for the deck of your dreams!
How do I find a good deck builder near me at Framingham?
The first and principal step before hiring a deck builder is to get to know them very well. Building or replacing a deck must be done by someone who has the right knowledge, method, specialization, and efficiency.
Recommendation is the most important thing when choosing a deck constructor, read or ask for testimonials on the internet from their previous clients or around the neighborhood; always asking to see pictures of their previous projects.
Generally, the number of years a deck builder company has been in the market tells a lot about their experience! And, from that number, we can assume that they have been improving their methods and techniques of working throughout the years, so they could keep their position.
Asking about legal documentation, requirements to work with construction projects and liability insurance and workman's compensation is an important factor to consider when picking up the right deck builder, because you can be sure you are free of any problems in case of any accidents.
Hiring someone next to you is your security factor that in case of any problems, help will come to you right away. Besides this, if you need to discuss important things about the project, having this conversation face to face will be easier for a deck builder in Framingham.
What time of year is best to build a deck at Framingham MA?
The best time of the year to build a deck in Framingham is during spring and fall, that is, between March and May and September and November. That is because the temperature during these months is not so hot or so cold.
Months that experience extreme temperatures can directly affect the quality and shape of the materials used. The heat can cause expansion and the coldness contraction, and if they are installed like this, they lose their quality, leading to a damage finish.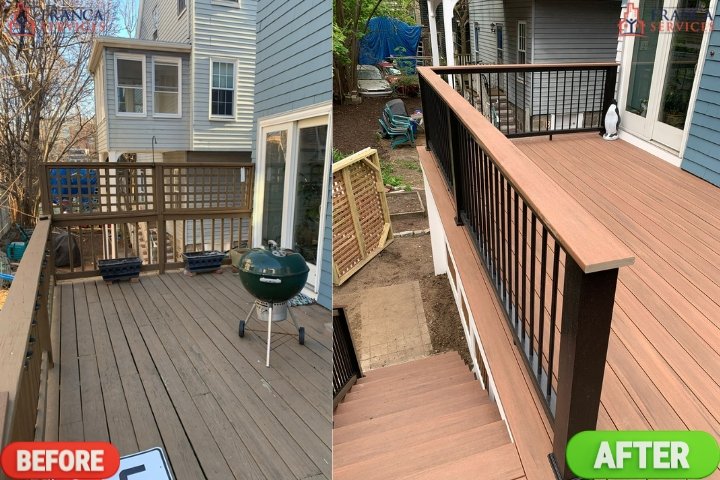 What materials are used?
Building a new deck or replacing an old one requires some specific materials, and the chosen ones depend on the homeowner's preference and budget.
The framing materials are all made of Pressure Treated wood and galvanized metals, because they do not suffer from weather conditions.
Besides this, the finish materials can be also made by Pressure Treated wood or Composite. It all depends on which appearance do you want to bring to your deck, but both options look amazing.
Composite Deck
Composite decking boards are made of wood fibers and plastic, bringing an appearance of wood but without its naturality.
They might be a little bit more expensive than wood itself, but in the long term, they are cheaper because they require little maintenance, being necessary just to clean them using water and soap, leading to a great durability.
In addition, this eco-friendly material can be produced using recycled materials and still being resistant against rot, insects, moisture, and cracks. And these composite boards can have several different colors and textures for all tastes and pockets.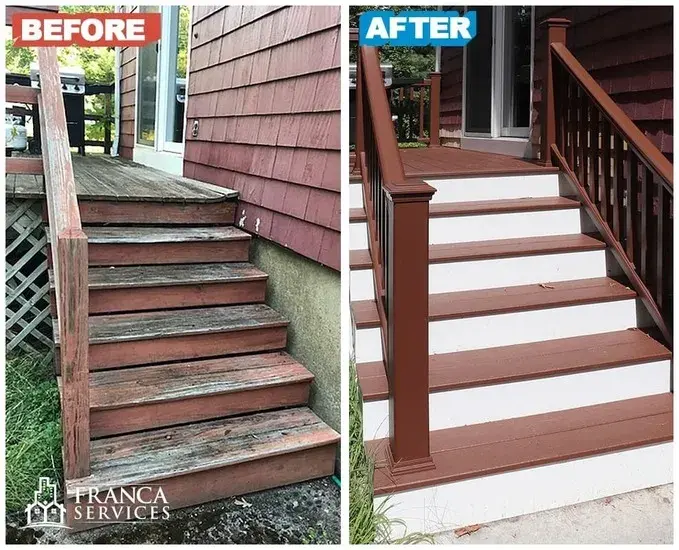 Wood Deck
This type of deck is still a good choice for those people who are looking for a deck with a more natural beauty, but in relation to its durability, it is not as famous as composite boards.
If the wood boards are stained and sealed properly and regularly, it will be against moisture, warping, cracking, rotting weather exposure and insects.
Wooden deck is a good option if you are looking for a cheaper one, but it is still beautiful, natural, with quality and cooler during the summer season.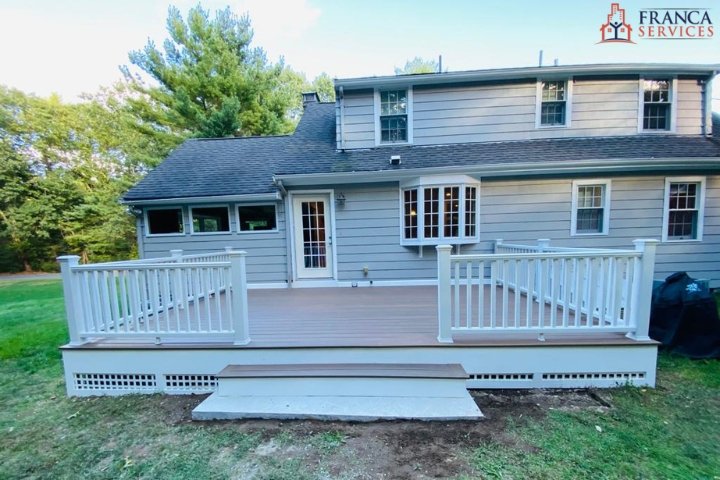 Deck Contractors at Framingham Massachusetts
Our company is well-known for being one of the best deck builders in Boston and region, delivering just the best projects of new decks or the replacement of old ones, ensuring our clients are extremely happy with the service provided.
Our team is composed of the best contractors, people who have received a great training and were taught how to work with efficiency and with advanced methods. They are also prepared for any challenge or potential problems.
We will deliver only services with the best quality, using the best materials that we get from our trustable suppliers. And their price is budget friendly, offering materials for any pocket, keeping their good quality.
Respecting all the bureaucracy is the main part of how we work, always following the requirements to work, having the legal documentation, liability insurance and workman's compensation insurance.
We work according to the 3 necessary inspections, they are: footing inspection, framing inspection and final inspection. Whether you need help replacing your old deck or building a new one, send us a message or call us to request a quote or to ask any questions.
We will be pleased to offer you a job of quality and for a fair price, one of the best in the market.
MARYLOU & MARK





"Our home looks so nice now with the vinyl siding.. It was a pleasure to do business with your company and if we ever need any work done on our home again your company is the first one we will call or refer to friends and family! Thanks from the Carey's."
JOHN D.





"I had a specific vision for my home and wanted to find a local contractors versed in every aspect of what the project involved: siding installation, exterior painting, you name it. After getting a few different quotes from various construction companies, I settled on Franca Services. From the initial contact to the final stages of the project the company delivered on all their promises, and I honestly say I could not be happier with the results. Thank You Franca Team, I'm adding you to my rolodex."