Having a deck in your house can be a great choice if you are looking for an outdoor space where you can relax, have fun with your family and friends and even to put a hot tube on it.
A deck improves your house bringing a different look, but, this home improvement is only effective if your deck is in a good condition.
As an outdoor space, we know a deck is susceptible to different factors of mother nature, being exposed to heat and cold, sunlight, rain, snow and so on. And, due to these elements any deck can lose its quality, good looking and be damaged.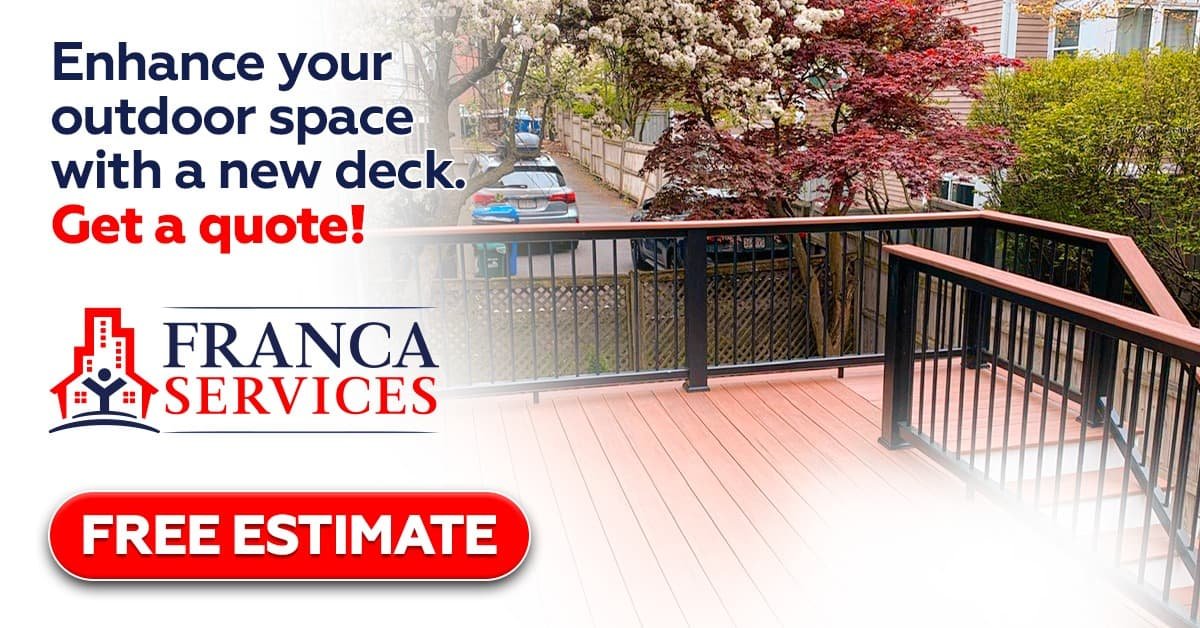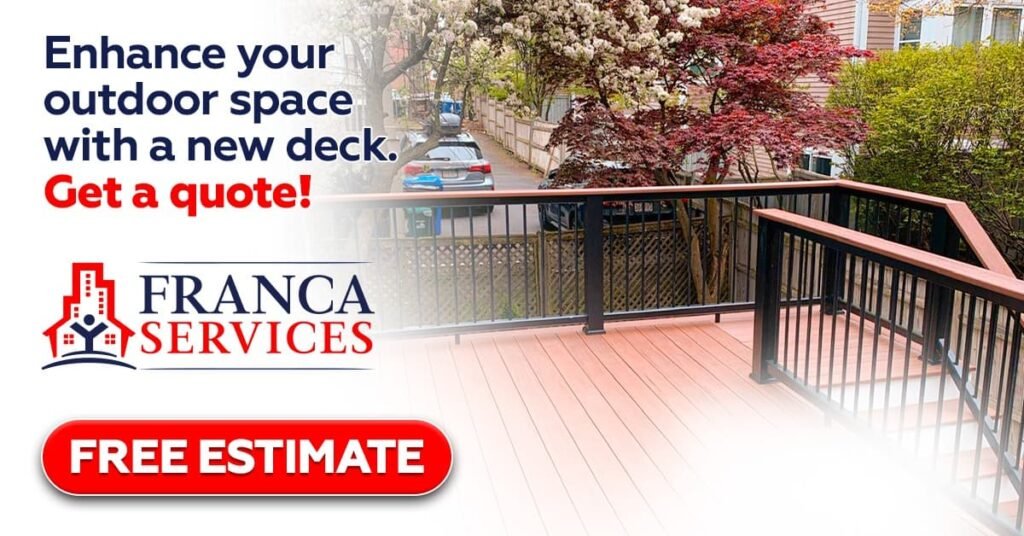 Learn how to remove vinyl siding
Through the years, a deck might start suffering from mold, rot, and mildew, caused by moisture, turning the structure weaker. Or all the fasteners used to fasten lumbers and decking boards can rust or loosen and the ledger board that secures the deck to your house can loosen as well.
Fiber cement siding: main questions answered
Considering these problems, sometimes it is better either repair the damages or replace a deck. Repair is a considerable option if the costs of the repairs are cheaper and simpler, while a deck replacement is an option for critical or new looking situations.
What is deck replacement?
Deck replacement is when a house already has a deck but is too old or suffers from a variety of problems, and it is necessary to replace some decking parts for new ones and keep its original deck framing, all joists, beams, posts, and footings.
Replacing a deck can be done in two different projects: deck board replacement and full deck replacement. It's a little different in comparison to window replacement.
Deck board replacement is when the deck framing remains originally intact and only the surface boards are replaced for new ones. This is done when only the decking boards are suffering from rot, mold, and mildew otherwise the structure is good.
Full deck replacement is the chosen one when even the deck structure is compromised, so the old deck is full teardown and replaced for new pressure treated lumbers, fasteners, hardware, surface boards and railings.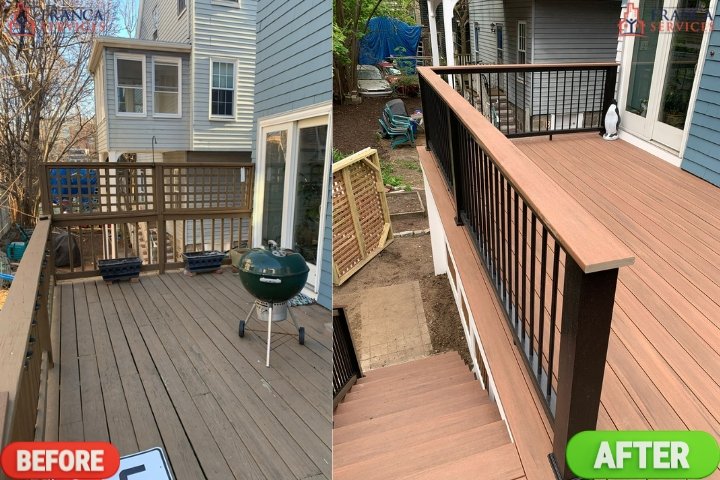 How often should decks be replaced?
It all depends on the material a deck is made of. If your deck was built with untreated wood, it can last around 15 years. Whereas, if it was built with treated wood, a deck can last 40 years.
However, it is important to bring up that it all depends on the condition of your deck. Throughout the year an inspection must be done to control its quality, always paying attention to some signs.
The constant exposure to natural effects, all the wood of a deck can start to rot and when it has high amounts of rot, the deck deteriorates. The same thing happens with fasteners and hardware, as exposed, they can rust.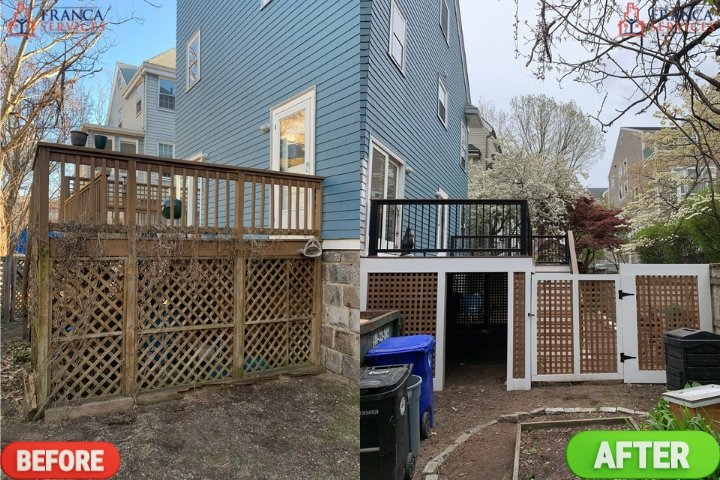 Loose railings or the deterioration of the ledger offer risks to the family and friends that might be on the deck, having a huge chance of someone falling or even the deck falling to the floor if the ledger is not correctly supporting the whole structure.
Another sign to pay attention to are the posts that support the deck on the floor, if there are any cracks or rot damage, it might be necessary to change them, avoiding any accident.
To conclude, we know a deck can bring a lot of happiness to a home, but the biannual inspections must happen to prevent any more serious problem.
Can you put new decking over the old deck?
Yes, it is possible to put new decking over the old one! Keeping the old structure and replacing only the surface boards helps the homeowner to save time and money, instead of building an entire new frame.
Nevertheless, if the deck has any rot damage, cracks and missing fasteners, putting new decking over the old one can be more expensive and a waste of time. The rot can spread out to the new decking or maybe later every board must be removed to fix the deck frame.
In addition, the age of your old deck must be controlled, if it is a fairly new deck, repairs won't be necessary so soon, but if we are talking about a deck that has more than 10 years, the old structure must be replaced before biannual to avoid extra labor.
Does replacing a deck increase home value?
As we said at the beginning of this article, having a deck in your house allows the homeowners to have guests with them and to enjoy a nice and beautiful outdoors space, furthermore, you can have more constructed area on your land.
So, yes, having a built deck in your house increases home value, and having a replaced deck, with new boards and railings, can do the same. The homeowner can recoup over 75% of return on ROI (investment).
If a family was looking for a house to buy, it is obvious that they would choose a house with a new replaced deck, rather than one with an old deck, because they would have to spend money and time replacing that deck themselves.
How to do deck replacement?
To replace a deck instead of building a whole new one sometimes is the best, quicker and easier option. After an inspection to make sure there is no need to have a new one, this project seems the right thing to do.
Here we have divided the process of deck replacement to a DYI project, the steps to make it are: materials and tools, remove the old decking, inspect joists and remove rotten portions, make the repairs necessary, attach new decking.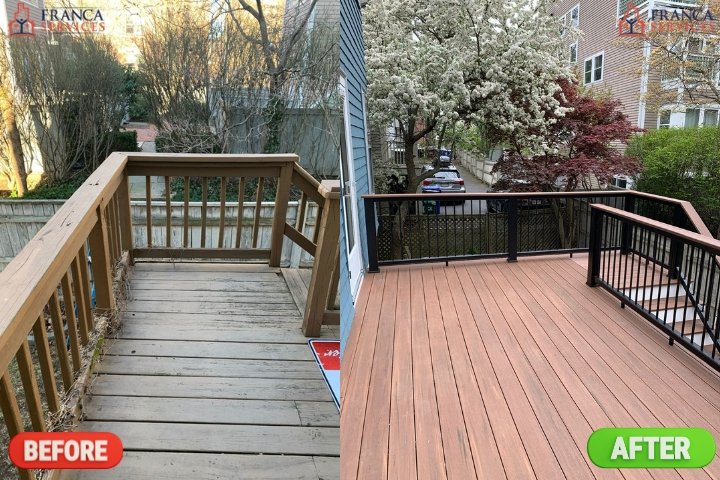 Tools to do deck replacement
Cat's paw
Circular saw
Drill/driver – cordless
Extension cord
Hammer
Safety glasses
Sawhorses
Speed square
Tape measure
Hearing protection
Jigsaw
Locking pliers
Miter saw
Nail set
Pry bar
Materials to do deck replacement
Pressure Treated wood
Nails and screws
Decking boards
Hidden fasteners
Hardware (joist hangers, base post, post cap).
Deck replacement: DIY step by step
Now you will learn how to do deck replacement in a professional way. Pay attention to these tips and steps:
Remove the old decking
After buying all necessary materials, put on the glasses and hearing protection, to avoid any accidents. With a hammer or a driver, remove all the nails and screws and start taking off the old decking boards.
Inspect joists and remove rotten portions
Before putting the new decking board, it is advisable to inspect the whole structure below the surface boards, to make sure that there are not any joist compromised or any other wood suffering from rot, for example.
If there is something compromised, it must be removed and replaced by a new one, generally using pressure treated that can be exposed to water and sunlight.
Make the repairs necessary
As we said previously, it is extremely important to make all repairs on the structure before putting in a new decking board. It can be just a nail, screw, joist hanger or a small piece of wood damaged, as soon as you make the repairs, there is no need to remove the new decking boards just to fix it later.
Attach new decking
To conclude the job of decking replacement, our advice is to choose surface boards made of composite, because in its composition there are wood and plastic together, making your deck last longer.
You will install the composite boards in a different direction from your joists, so it is possible to attach them together perfectly.
To join two pieces of decking together, we are going to need hidden fasteners, so between these two boards, you will fasten a screw.
After these few steps, your deck will be ready to be used and enjoyed. However, it is advisable to hire a specialized company to do the job, because it can be very dangerous to have people on it without real knowledge and sure that everything was correctly replaced and repaired.
Deck replacement with Franca Services?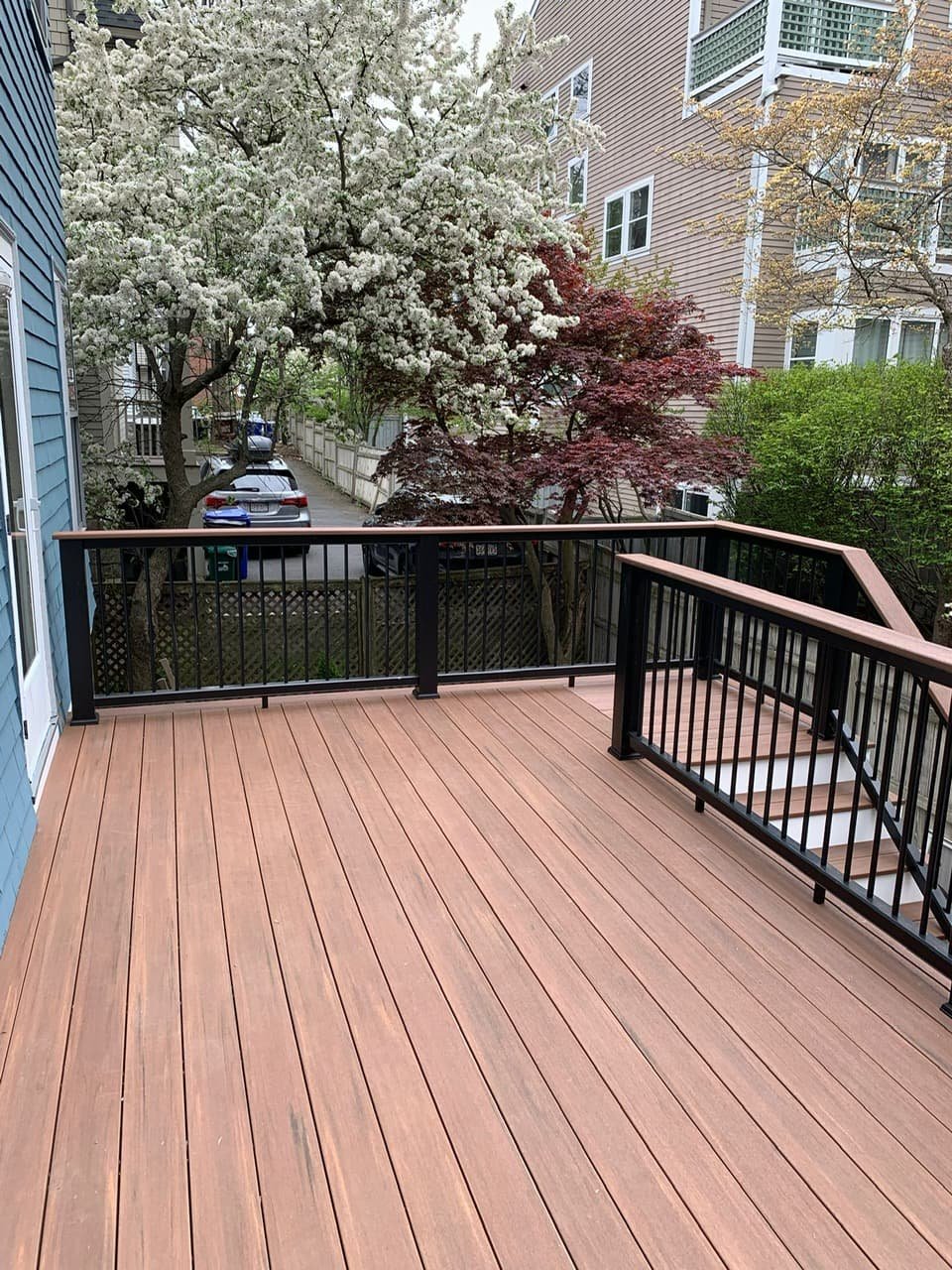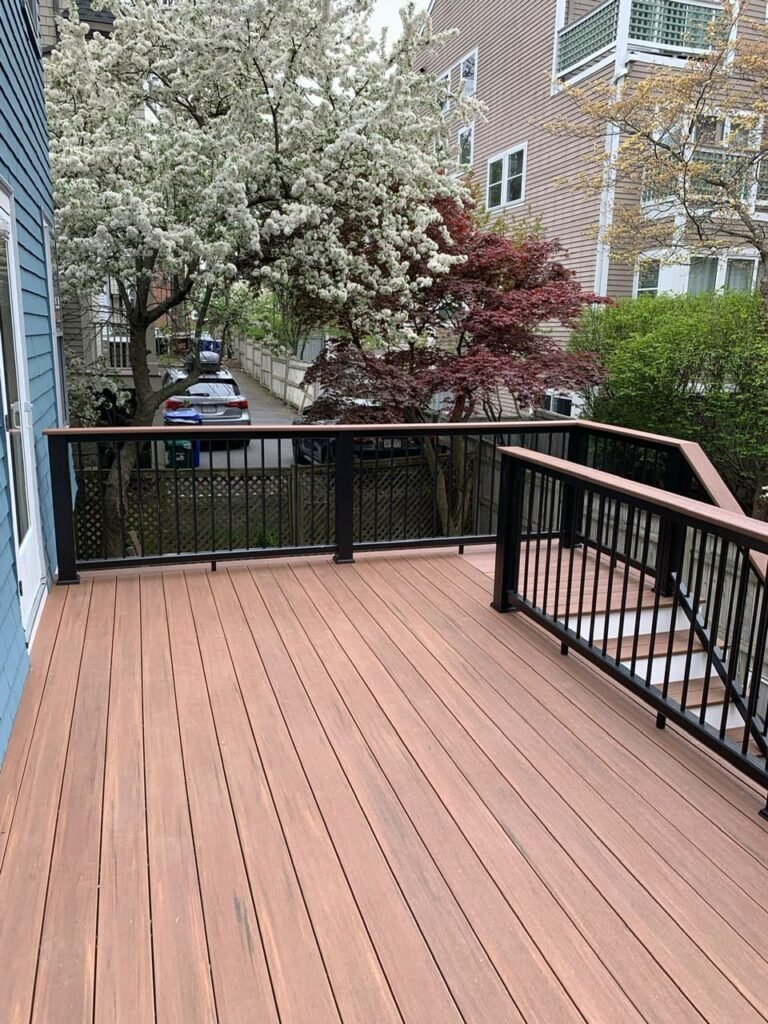 Our deck building and deck replacement services include tear down, installation, material disposal and more. With our excellent and expert team, we pride ourselves in service excellence, building everything according to our client's wish. The result is a great-looking deck that's now safer for your family, friends and pets.
Did this article help you to understand the process of deck replacement better?
Have you discovered your deck in need of a fresh new decking board or deck frame? Contact us for an estimated price and consult our lead time!
Let us know and enjoy our specialized services in the comfort of your sweet home.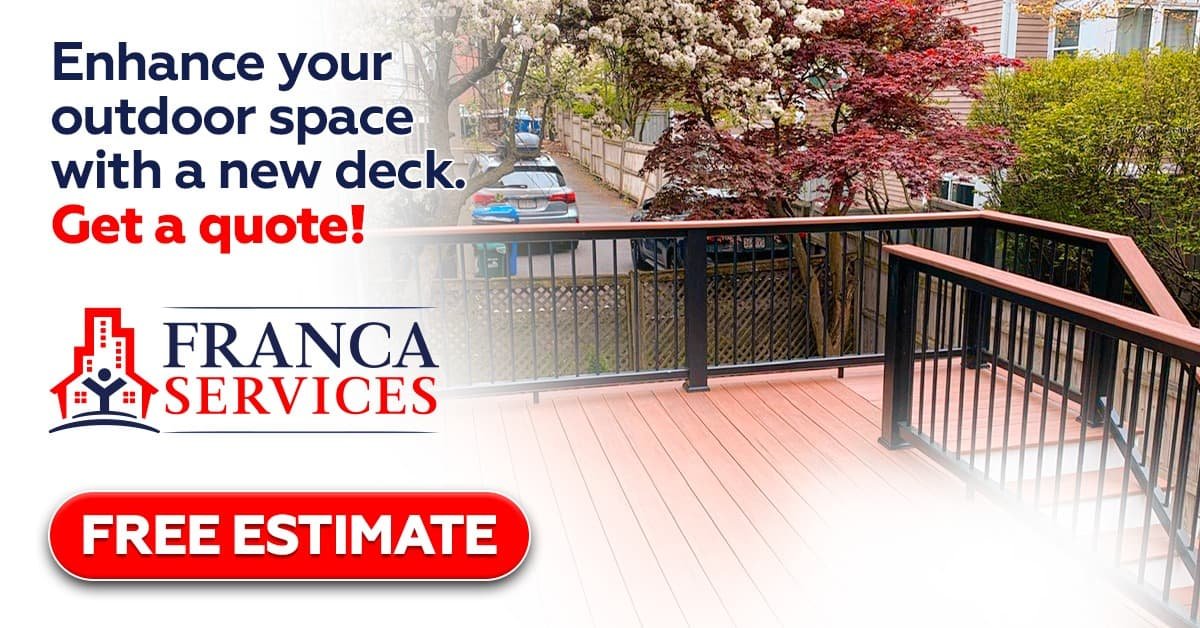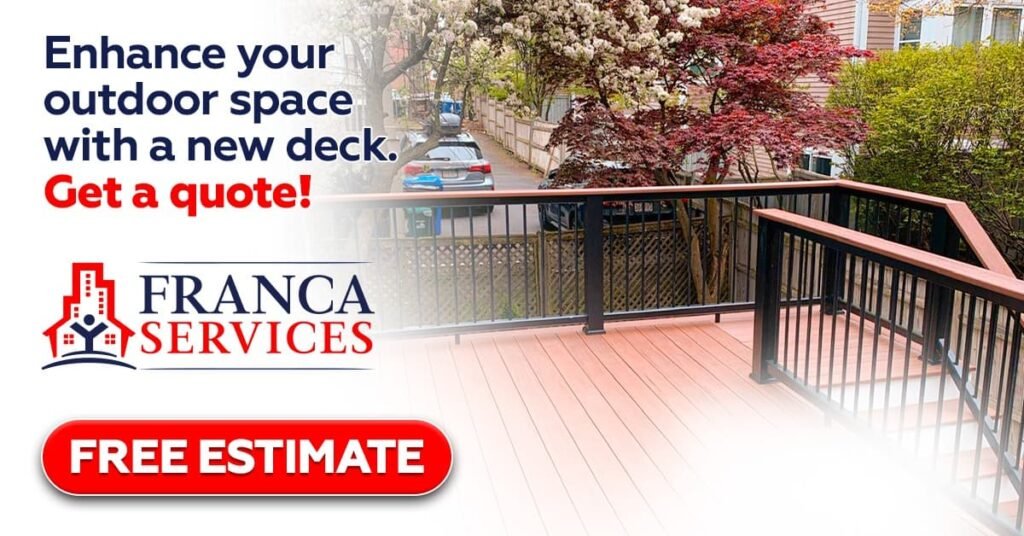 Some services we serve: