Is It Time To Replace Your Deck?
Your deck is an important part of your home, and when it becomes unsafe, damaged by the elements, or structurally unsound, it's time to replace it.
you may be considering replacing it. If so, you're not alone — it's one of the most common things homeowners do.
In this blog post, we'll explore the signs that it might be time to replace your deck and what to do next.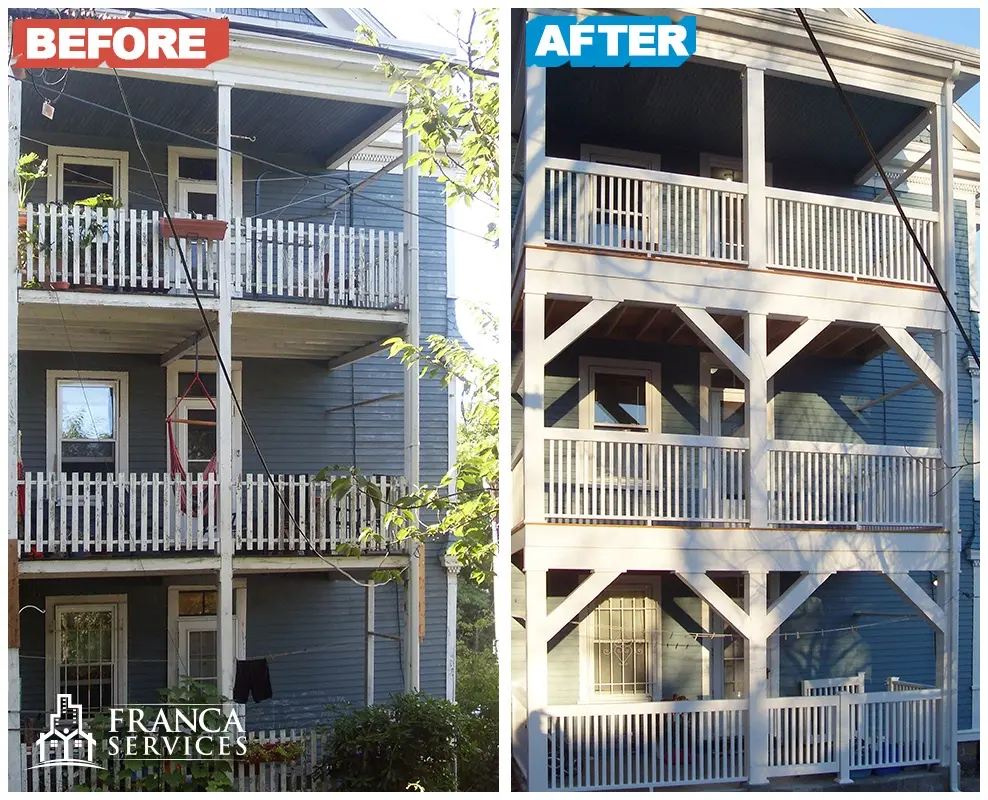 What to check for to know your deck might need replacing?
Look for signs of insect infestation. Check for mold or rot. Look for shifting, warping or wobbly boards. Look for cracks, nail pops and loose railings.
If your deck is showing any of these signs, it may be time to replace it. Before you do anything else, though, make sure you have an idea what type of replacement you want.
You can either opt for a complete replacement or a partial replacement. With a complete replacement, you'll need to remove the old deck and start from scratch.
With a partial replacement, you can leave the framing in place and just replace the decking and railings.
If you're not sure whether you should replace your deck or not, it's always a good idea to consult with a professional.
We here at Franca Services - Your Boston Decking Experts can help you determine if your deck needs to be replaced and, if so, can help you plan for the replacement.
During the process of replacing a deck, you can choose to use the same materials as the original deck or you can opt for something different.
While there are many different types of decking materials available on the market, let's go over a few of the most popular options:
Wood Decking
Wood is the most common type of decking material. It's also the most traditional.
There are many different types of wood you can use for your deck, including cedar, redwood and pressure-treated lumber.
Wood decking is a popular choice because it offers a classic look and feel that many homeowners love.
The downside is that wood can rot if not treated properly or if left in direct sunlight too long — which will lead to splintering and cracking — so make sure your wood deck gets plenty of shade during hot days in summertime if possible!
Wood decks need to be cleaned and sealed every one to two years to protect them from rot and insect damage, as well as keep lumber from splintering or wearing down.
Because the maintenance requirements are so high, many homeowners hire contractors to provide sanding and sealing services.
The cost of deck maintenance varies depending on the size of your outdoor space and local labor rates.
Composite Decking
Composite decks are made from a mix of wood fibers and plastic.
This type of decking is low-maintenance because it doesn't require annual sanding or sealing like wood decks do, so you'll save money in the long run.
This decking material also doesn't rot, splinter or crack like wood can and comes in a variety of colors and textures that can match any home or outdoor space.
The one downside of composite decking is that it's more expensive than wood — usually about twice as much.
But because it lasts longer and requires less maintenance, many homeowners feel it's worth the investment.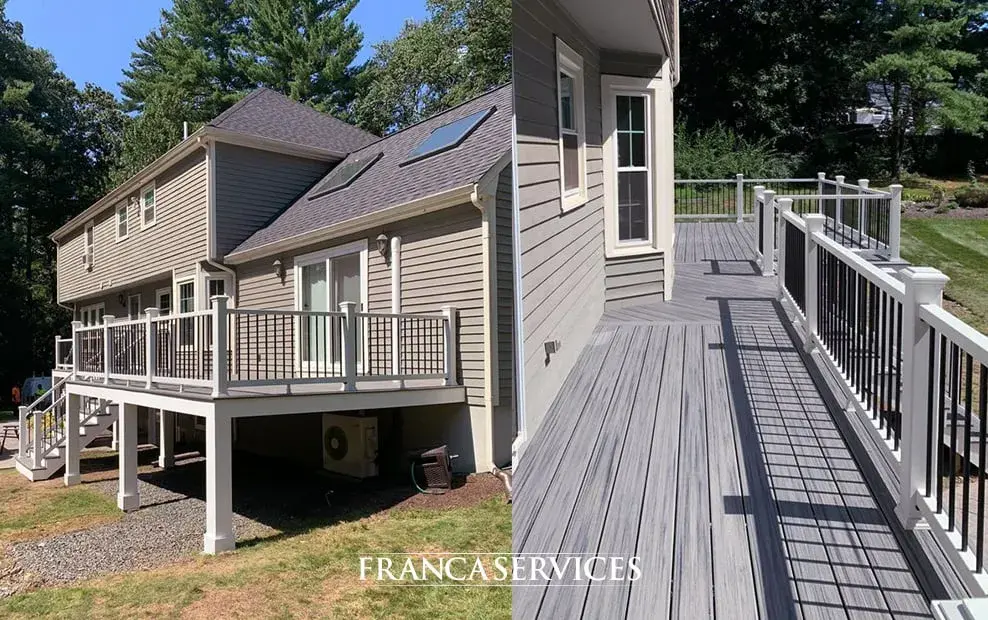 Another great advantage of going with a composite deck is choices for railings and other accessories.
A wide range of railing options including spindles, posts and rails or custom designed railings as well as posts and balusters for any style railing system you may want to install on your new composite deck system.
What are the most common composite deck brands?
With the extreme popularity of composite decks comes the emergence of new brands such as Timbertech, Trex, and others offering a variety of composite decking products.
But with so many composite deck brands and products available, how do you choose the right one? Below, we will briefly touch on the three most popular composite deck brands and their products to help you make a more informed decision.
Trex Composite Decks
Trex makes several different types of composite decking products including Trex Transcend, Trex Select, Trex Shadow Grass and Trex Waterproof.
Their decks come in many different styles including board-on-board and board-on-battens.
They also offer accessories such as railings, posts and stairs that are designed specifically for use with their products.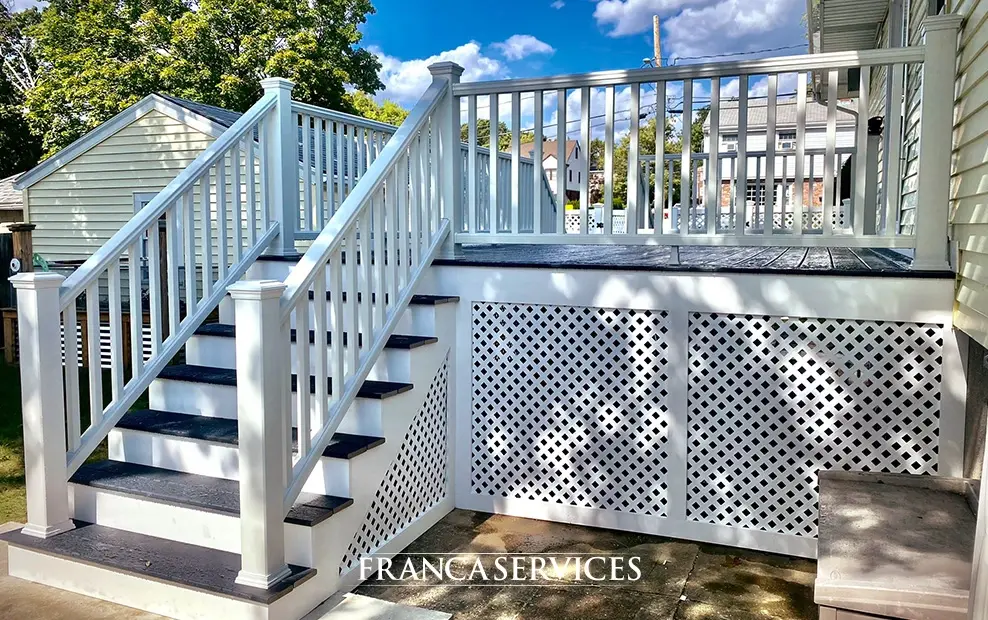 TimberTech Composite Decks

TimberTech is one of the most well-known composite decking brands on the market today.
You might know this company as Azek Deck, but in 2012 the company merged with TimberTech and is now the same company offering a wider range of products.
TimberTech offers three different types of composite decking — TimberTech PRO, TimberTech EDGE and TimberTech Legacy.
All three products come in a variety of colors, textures and styles to suit any home or outdoor space.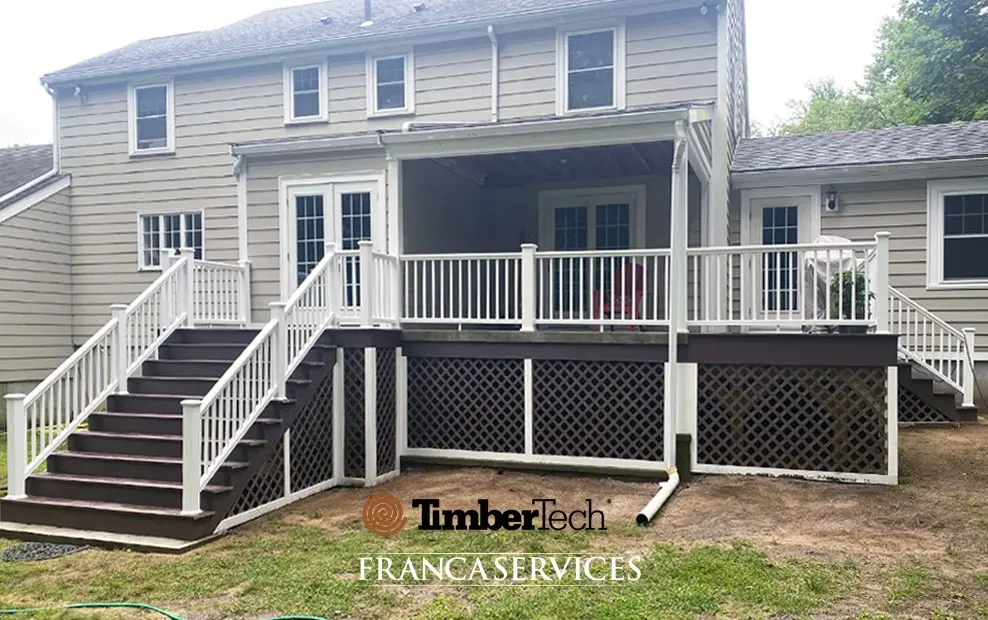 The company has been around for more than 40 years and has built a reputation for being one of the leading producers of composite decking in North America.
TimberTech's composite decking is made from recycled materials, so it's environmentally friendly and durable.
The material is also low maintenance - you can simply hose it off when it gets dirty.
Wolf Composite Decks

Wolf Composite Decking is made from a mix of wood fibers and PVC. The company offers two different collections — Wolf Serenity and Wolf Perspective.
Wolf Composite Decking also has a 25-year warranty against fading, chipping and cracking.
Let's answer some other common questions about deck replacement
When is the best time to replace a deck?
The best time to replace your deck is in the spring or summer when the weather is warm and dry. Decks can also be replaced in the fall, but it's important to finish the project before the first frost.
Winter is generally not a good time to replace a deck due to the cold weather and potential for ice and snow.
Boston residents should also be aware of the city's winters and be sure to factor that into their deck-replacement timeline.
How much a deck replacement cost?
The cost of a new deck depends on the size, materials and labor. According to 2022's Cost vs. Value report, the average cost of a deck replacement is $13,600.
The report also found that the average return on investment for a deck replacement is 70.4%.
This means that if you spend $9,600 on a deck replacement, you can expect to see a return of $6,736.
Redoing your deck can be a big project, but with the right planning and execution, it can be a great way to improve your home's value and create more outdoor living space for your family to enjoy.
Sometimes it's difficult to know when it's time to replace a deck.
You might think that the job can be done yourself, however hiring a professional deck contractor is always recommended when it comes to replacing or repairing your deck because they have the right tools, knowledge and experience.
When it comes to deck replacement in Boston, Franca Services is the name you can trust. Our team of experts will provide you with a free estimate and quality service that won't break your budget.