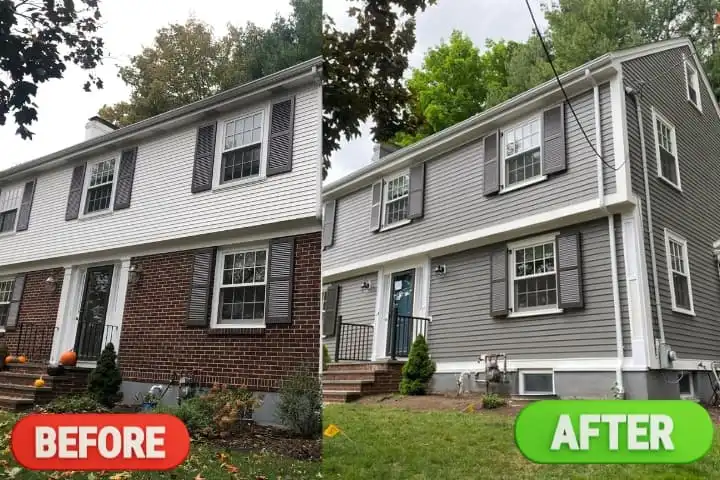 Siding is a product used to cover the whole or just some parts of the structure of a house, bringing not just beauty and a nice look with its variety of colors, but protecting the entire structure.
Installing this material requires someone who has knowledge and experience, it cannot be done by any people, or serious damages might affect the house and those who live there.
Franca Services has been working with siding in Arlington since the moment our company was founded, 19 years ago! We have been helping people from Boston and its region to achieve the home of their dreams since then.
As we have been in the market for a long time, we know the perfect moment to hire a siding service, which are from March to May and from September to November, months that do not suffer from extreme weather conditions, when we can work properly, and the family feels 100% comfortable.
Different types of siding services in Arlington
A siding project involves different kinds of work, like siding installation, repairing or replacement; and they all depend on what the homeowner is looking for and their purpose when requiring this job.
Siding Installation
When a new house has been built, covering its exterior with a siding is essential after the whole structure was constructed, to protect the house and the family who is going to live there against natural elements, to control the temperature from inside and give beauty.
Siding Repair
Over the years, a constructed house is likely to need some repairs on its structure. If you hire a siding contractor, they can inspect everything carefully and see if the siding that has been already installed can be just repaired where it is necessary or if a replacement is better.
Siding replacement
Replacement of a siding is done when the current siding that is covering the house is too old or too damaged. When not only the existing siding is compromised, but perhaps some parts of the structure of the house.
In addition, our tastes for some things can change, and the same can happen to the type of siding that is on the exterior of our house! A change of color, shape or texture is done by replacing the existing siding.
Top Siding Options for Arlington, MA Homeowners
The best advantage of having a siding covering the structure of your house is that it comes in many different materials, having distinct characteristics among them, textures, colors, and shapes.
The most common types of sidings used in houses nowadays are: vinyl siding, fiber cement siding, wood siding and metal siding.
Vinyl Siding
Vinyl siding is made of PVC, polyvinyl chloride, a durable plastic that is made to imitate traditional wood, but, differently from wood, it has the possibility to choose among a great variety of colors, matching easily with the homeowner's taste.
This type of siding requires only the basic maintenance, just a garden hose and soap will do the job of keeping the vinyl beautiful, without needing to paint it throughout the years.
Another great side of having vinyl siding is how durable this material is, being capable to withstand natural elements, harsh weather, moisture, insects, warp, and crack.
Having vinyl around your house will help you to save money on your energy bill since this material is considered as being energy efficient, helping to keep the cold outside and the heat inside during winter and vice versa during summer.
So, vinyl siding is a good option for those who are looking for affordability with a home improvement at the same time.
Fiber Cement Siding
Fiber cement siding is a material made of a mixture of cement, sand, water, and cellulose fibers. It is possible to buy this siding in many different types, like lap siding, panel, shingle and board and batten; all these 4 come in many different colors, shapes and textures.
As the years are passing, is it possible to paint this material again, to match with the family's taste, but do not mistake it as being a bad material of poor quality, it has a great durability only with the least basic maintenance, like cleaning.
Siding made of fiber cement cannot be affected by rot, moisture, fungus, insects and even fire, needing to paint it again using acrylic paint just when it starts fading.
Even though this material can be more expensive than vinyl siding, for example, it will increase the value of a home by almost 10%-15% because of its superior appearance with energy efficiency at the same time, avoiding cracks and breaks.
Wood Siding
If you are looking for a natural beauty like the one that only wood is capable of offering, and being at the same time easy to install, easy to paint or stain when it requires maintenance and offers protection against mold, moisture, rot, insects, rain and sun; wood siding is the option!
This biodegradable siding is an amazing option for those eco-friendly houses, not only because the wood can be a reclaimed sustainable one, but it is energy efficient, helping to save energy and money with heating and cooling systems.
And, besides the advantages above, this tough and resistant material can boost home value, bringing innumerous interested buyers, and being easy to sell when necessary.
Metal Siding
Metal sidings are most commonly made of steel, but it is possible to find options made of copper, zinc and aluminum.
This siding is well-known to be one of the strongest options, working perfectly for those regions that suffer from extreme weather conditions, which is why it demands low-maintenance.
Sidings made of metal come in many different colors and styles and they are fire resistant.
What time of year is best to hire a siding contractor at Arlington MA?
If you are looking for siding services in Arlington to do the installation of a new siding or just the replacement of an old one, we recommend searching for this job during the months that do not suffer from extreme heat in summer and extreme coldness, like winter.
The perfect seasons to have this project done are spring and fall, that is, months from March to May and September to November. During these months the temperatures are not exaggerated, so the siding will not suffer a lot from expansion and contraction.
Besides this, as the installation of a new siding or a removal from the old one might need to let the structure of the house exposed, the heating and coolness system that are mostly used during summer and winter, will not work properly, losing its energy efficiency purpose.
It does not mean that during winter the job project cannot be done, but not everyone agrees to have its house structure opened, being vulnerable against cold temperatures, so it all depends on the homeowner.
Siding Contractors at Arlington Massachusetts with Franca Services
Our company is well-known for being one of the best siding contractors from Arlington and its region, delivering just the best projects of siding installation, repair, or replacement, ensuring our clients are extremely happy with the service provided.
Our team is composed of the best, people who have received great training and were taught how to work with efficiency and with advanced methods. They are also prepared for any challenge or potential problems.
We will deliver only services of extreme quality, using the best materials that we get from our trustable suppliers. And their price is budget friendly, offering materials for any pocket, keeping their good quality.
Respecting all the bureaucracy is the main part of how we work, always following the requirements to work, having the legal documentation, liability insurance and workman's compensation insurance.
Whether you need help replacing your old siding, repairing the existing one or a new installation, send us a message or call us to request a quote or to ask any questions. We will be pleased to offer you a job of quality and for a fair price, one of the best in the market.
MARYLOU & MARK





"Our home looks so nice now with the vinyl siding.. It was a pleasure to do business with your company and if we ever need any work done on our home again your company is the first one we will call or refer to friends and family! Thanks from the Carey's."
JOHN D.





"I had a specific vision for my home and wanted to find a local contractors versed in every aspect of what the project involved: siding installation, exterior painting, you name it. After getting a few different quotes from various construction companies, I settled on Franca Services. From the initial contact to the final stages of the project the company delivered on all their promises, and I honestly say I could not be happier with the results. Thank You Franca Team, I'm adding you to my rolodex."