What is fiber cement siding?
Fiber cement siding is a material that goes on the exterior of houses that has great durability requiring low-maintenance and lasting longer than other materials, as well as bringing a great appearance to your home.
This siding is a mix of cement, sand, water, and cellulose fibers; but it is important to remember that it all depends on the brand you choose.
Learn about deck replacement
Is cement board and cement fiber the same?
There is almost no difference between cement board and cement fiber.
Cement board is particles of cement and fiber cement together as planks and in its composition, there are wood flakes as reinforcement; whereas in the cement fiber there is cellulose fiber as reinforcement.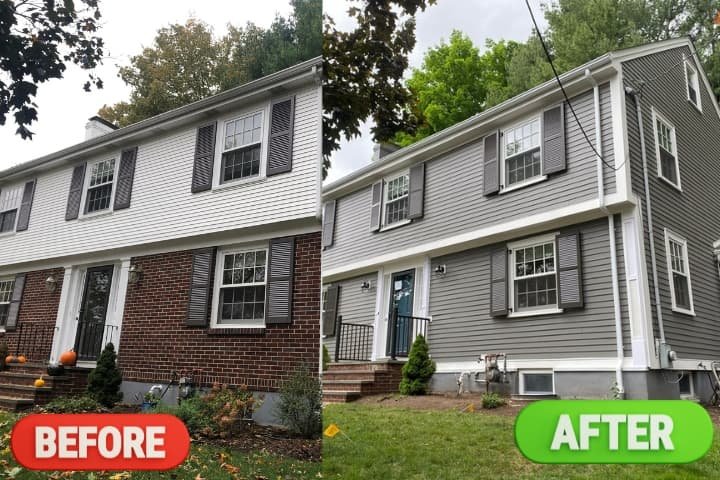 Is fiber cement the same as Hardie board?
Yes, somehow, we can consider them the same; Hardie board is the most well-known and trustable brand of fiber cement boards.
Hardie board and other brands of fiber cement are resistant to fire and insects, but the well-known brand is very effective against animals, it doesn't rot and is much stronger, without any chance of breaking easily, lasting longer than other brands.
Types (styles) of fiber cement siding
There are 4 main different types of fiber cement siding for your house as your style:
Lap Siding
The Lap Siding type is formed by horizontal planks, placed in rows, overlapping one another. It is the most used for houses, giving a traditional look.
Lap siding has different sizes and can be painted by different colors and has different textures.
Vertical Siding
Vertical Siding is an option for those homeowners that are looking for a distinct appearance for their houses.
This type of siding is more expensive than the Lap Siding, the horizontal one, because it is more complex when installed, but it is more resistant.
Shingle Siding
Shingle Siding gives the idea of wood but without the risks of covering the exterior of your house with it, like rotting.
Bringing a rustic look to your house, the Shingle Siding can have straight edges or round edges, different sizes, colors and textures.
It can be installed only on one specific part of the house to give a distinct look or on the whole exterior.
Stucco Fiber Cement Siding
The Stucco Fiber Cement Siding gives the opportunity of having different colors, sizes, or shapes of the masonry, but using fiber cement in its composition. It is a great option if you are looking for a distinct look for some area of the exterior of your house.
How many years does fiber cement siding last?
This is the same case as we discussed with Window Replacement, it all depends on the factors your fiber cement siding is exposed to and how well it was installed. The average lasting time we can consider is about 50 years.
It has a high durability because Fiber Cement Siding requires low maintenance, and it can be painted again easily as the homeowner wishes.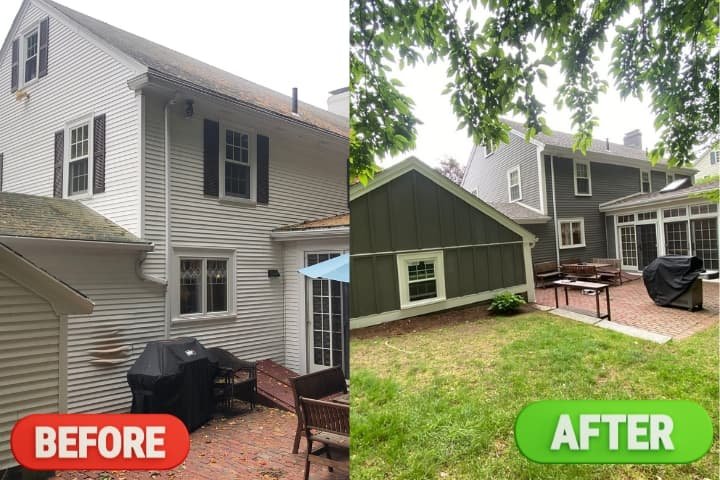 Does fiber cement siding require maintenance?
Fiber cement siding requires at least basic maintenance, like cleaning and repainting when necessary.
This siding comes from the fabric already painted and primed making the paint last longer. So, you don't have to worry for about 10 to 15 years.
So, when the repainting is required, it is recommended for fiber cement siding to use acrylic paint.
As Fiber cement siding is made of cement, sand, water, and cellulose fibers, none of these raw materials can be affected by rot, because they don't absorb the moisture.
What type of siding lasts the longest?
Stucco Siding is the type of siding that lasts the longest, being durable for almost 80 years.
Can you install fiber cement siding over wood siding?
Yes, it is possible to use your old wood siding as a substrate to your fiber cement siding as long as its condition is good and free of any damage, like rot, broken parts and without water infiltration.
Consequently, before installing your new fiber cement siding, your old wood one must be inspected to be able to make all the necessary repairs.
To conclude, if your house had any problems with infiltration previously, it is advisable to take off the wood siding so the inspection can be more effective.
Is fiber cement siding better than vinyl siding?
Yes, fiber cement siding is better than vinyl siding, that's why it is typically more expensive than vinyl.
Fiber cement siding is the best option tough against elements, resists against any kind of fungus, UV damage, insects and even fire!
But that doesn't mean that Vinyl siding is a bad option! This siding is a popular choice for homeowners that plan to spend less when building a house.
Vinyl is made of PVC (Polyvinyl chloride), a material that protects against UV rays, requires little maintenance, it is energy efficient and looks natural with a great variety of colors.
So, considering that Fiber Cement Siding is fire-resistant and lasts about 50 years and Vinyl Siding isn't fire-resistant and lasts about 30 years, it is assumed that the benefits of Fiber Cement outweigh the higher cost.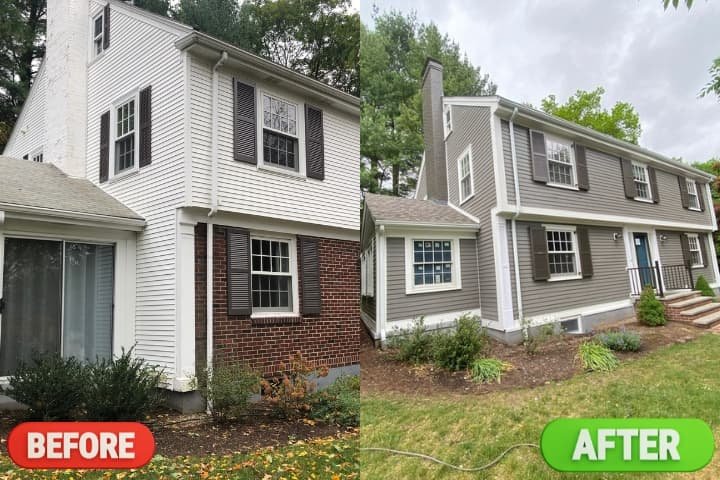 Does fiber cement siding increase home value?
Having a fiber cement siding around the exterior of your house is a great investment, because there will be almost no need for maintenance and repainting, so the quality and the great appearance of your house will remain for the next 50 years.
The National Association of Home Builders (NAHB) recognizes the superior appearance and energy efficiency of fiber cement siding. It is estimated that fiber cement siding will add 10-15% to the value of homes and is highly sought after by home buyers or real estate appraisers.
Is fiber cement siding a good choice?
Yes, fiber cement siding is considered a good choice if you are looking for a siding that lasts longer and requires low maintenance.
The list of benefits explains why it is worthy to spend more with this type of siding:
It doesn't expand or contract with the temperature;
It is resistant to cold and hot temperatures, so it will not crack or even break;
Protects your house from melting snow or ice;
Water resistant;
Fungus resistant, free of rot;
UV resistant;
Insects resistant;
Fire resistant;
Great variety of colors, shapes, sizes.
Fiber cement siding with Franca Services
We, Franca Services, are a family-owned company that offers high-quality siding work in Boston and surrounding areas. We are licensed and insured to transform your home as your dreams with the help of our expert team that has the knowledge and experience.
Our first step is to build a relationship with our customers, to ensure that 100% of their satisfactions and wishes will be accomplished. We offer a great variety of siding, including colors, textures, types, shapes for all tastes.
19+ years in the business!
We are Fully Licensed & Insured
Accredited BBB business with an A+ rating.
Family Owned & Operated
Ready to make your vision come to life

Did this article help you to understand fiber cement siding better?
Have you discovered your house is needing a new fiber cement siding?
Let us know and enjoy our specialized services in the comfort of your sweet home.