Is fiber cement siding worth it and does it increase value of a home?
The siding of homes here in the Greater Boston area has undergone many changes over the years – we have gone from wood to vinyl siding and now fiber cement is an extremely popular option.
In fact, fiber cement has been declared by some as the best choice for home siding.
However, not everyone is sold on this material and there are still a lot of doubts about it.
After all, is fiber cement siding worth the hype?
The first step to understanding fiber cement siding is to understand some of the advantages of using it in place of other siding materials.
Is fiber cement siding better than vinyl siding?
There are several advantages fiber cement has over vinyl siding, but the most important is that it is fire-resistant.
Modern homes are predominantly constructed with vinyl siding, which is both affordable and durable.
However, with the increased risk of wildfires in the United States more and more people are choosing fiber cement siding as a natural, yet aesthetically pleasing, fire-resistant alternative.
Vinyl siding has been shown to burn very rapidly, whereas fiber cement will not melt or crack when exposed to high heat sources.
Is fiber cement siding better than wood siding?
When it comes to longevity and durability fiber cement siding has many significant advantages over wood siding.
Don't get us wrong, wood siding can last a while with proper maintenance, but being a home owner is easier when your home has siding that is as maintenance free as possible.
Fiber cement is virtually maintenance free, but just because its strong does not mean an occasional pressure wash can hurt.
Wood siding is more costly to maintain than fiber cement, as wood is more susceptible to mold growth and insect activity because wood tends to rot faster than cement, which means that pests can infest this type of wood much more quickly, that means wood siding needs to be painted or stained often to prevent future issues.
With fiber cement though, you won't have to worry about any pests.
Not to mention fiber cement tends to be less expensive than traditional wood-based products.
60% of consumers believe that their home's appearance has a direct impact on its value.
A home's appearance is one of the most significant contributors to its value.
The National Association of Home Builders (NAHB) recognizes the superior appearance and energy efficiency of fiber cement siding.
It is estimated that fiber cement siding will add 10-15% to the value of homes and is highly sought after by home buyers or real estate appraisers.
Think about it—great curb appeal can chase away all the wrong potential buyers or attract just the right homebuyer.
Fiber cement siding looks like real wood but never needs to be painted, and it lasts so much longer on your house.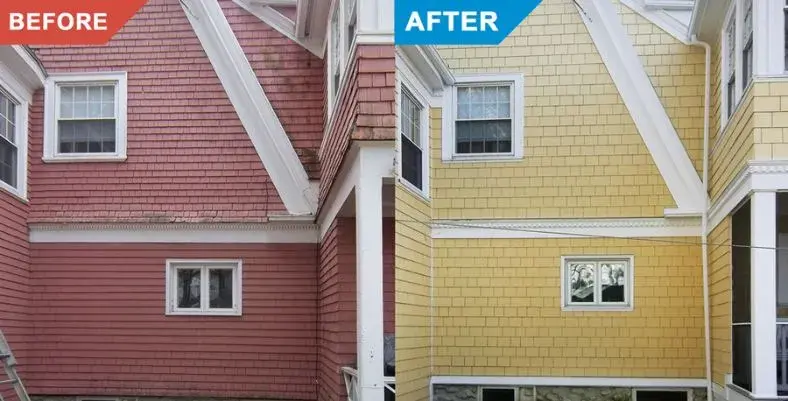 Who makes the best fiber cement siding?
Some of the most common fiber cement siding brands include: James Hardie, CertainTeed and Alside, all of which are offered by Franca Services.
These brands offer a wide variety of different finishes and profiles, so you are bound to find something that fits your tastes.
If you are in search of the best fiber cement siding, the brand James Hardie aka HardiePlank will come up the most in your search.
That is because James Hardie is known around the world as the premier manufacturer of fiber cement siding, decorative boards, and shingles.
They have a long history of innovation in their products ensuring that they address the issues most homeowners encounter when looking for a reliable exterior material.
James Hardie Fiber Cement Siding

James Hardie fiber cement siding has long been America's #1 exterior siding choice and is designed to resist fading, cracking and rotting.
For a beautiful, protective finish, look no further than James Hardie siding, which comes with a 50-year warranty—the best in the industry.
It is also one of the only siding options that can be customized to complement your home's style, from a variety of colors and textures that fit seamlessly within your community.
Thanks to this unique product, you can enjoy siding that's durable enough to last for decades, yet beautiful enough to make your house a showpiece on the block.
There are many options for adding new style and value to your home, but few offer as many benefits as durable as James Hardie fiber cement siding.
With so many benefits that make fiber cement siding better than traditional siding, why settle for anything less?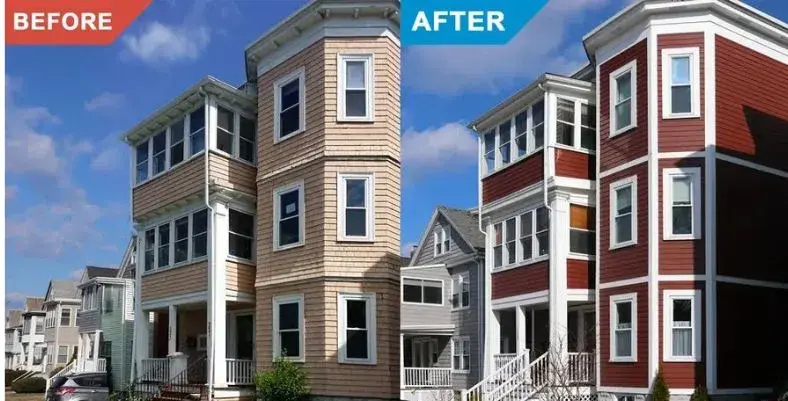 Is Fiber Cement Siding Worth It?
Yes. Fiber cement siding is a great investment and is worth it! … if installed correctly.
Fiber cement siding is a traditional material that has been tried and tested for centuries.
It will increase the value of your home and protect your family from the elements.
To make sure it is installed correctly, hire contractors that are skilled installing fiber cement siding.
We can think of 1 contractor in your area that we would recommend for your siding installation, but we are biased.
Our customers are saying:
"After we completed an addition, we hired Franca services to replace our old chipped wood siding and trim with hardie plank siding and PVC trim. Our house is old and 3 stories so there are a lot of angles and unique spots. Franca came in and did a tremendous job. We did this work from Jan-Feb, the team was here every day at 630am before it was bright out and left when it got dark, they worked through brutally cold days and the end result was amazing. If you're considering using them, don't have any doubts, they're the team to trust." – Pat Henderson
Are you thinking of going with Fiber Cement Siding?
Request your free siding consultation with us today, and make the first step into a better home tomorrow.