You've probably heard of the comparison: deck paint vs stain. But, wich is the best? Do you need a deck builder to do the job or can you do it by yourself? Learn now how to choose between these two types.
A wooden deck gives to a house a classic look of wood, being extremely natural and gorgeous for those who see it. When a choice of having this type of deck is made, the homeowners have to be aware that it requires maintenance.
When the deck is built, if the wood is not protected properly, it can develop some issues to disturb the enjoyable time a family and its guests might have, by becoming ugly and with moisture.
Unprotected wood can develop cracks, warps and the sun will discolor its natural appearance of wood, whether it is painted or just stained.
To give a new look to a deck, there are two possible options that will do their job with excellence, but always having their differences, they are: painting and staining a wooden deck.
Before that, if you want, you can learn how to remove vinyl siding too!
Is it better to stain or paint your deck?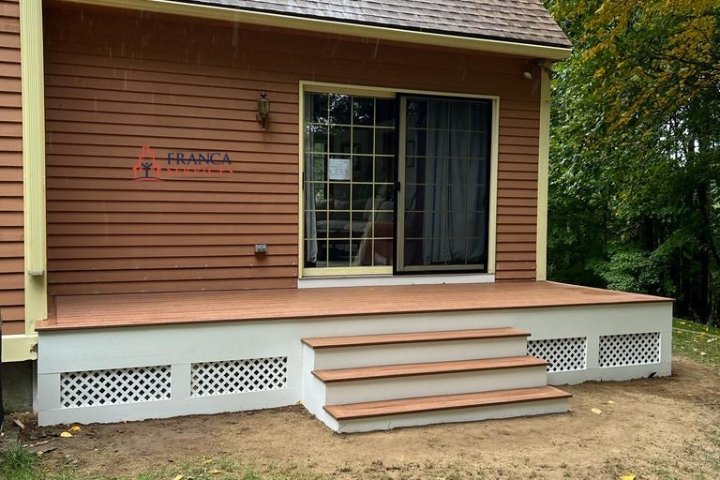 There is not a right answer to this question, it all depends on what you want for your deck. Whether it is painted or stained, they will both offer different qualities for the deck.
Staining a deck is when a product is applied over the wooden surface of the whole deck. This product will penetrate the wood, creating a transparent and shining film on its boards with only one coat and without any marks of brushes or rollers.
So, if you are looking for protection and preservation not only for the deck, but of its natural look of wood, with its grains and texture and without paying lots of money for the job, staining is better for you.
Whereas, painting a deck is the best option for those who are looking for a brand-new look for their deck, having a vast variety of colors, being easily matched with the home exterior.
Even though painting a deck requires more than one coat and all the natural look of wood will consequently disappear, its main strength is to last longer than stain, with little maintenance and covering completely any imperfections the deck might have.
Also, if you hire a professional to paint your deck, they will provide a quality job with the best results, even if your deck is kind of old or suffers with problems caused by the weather.
Deck paint vs stain: the difference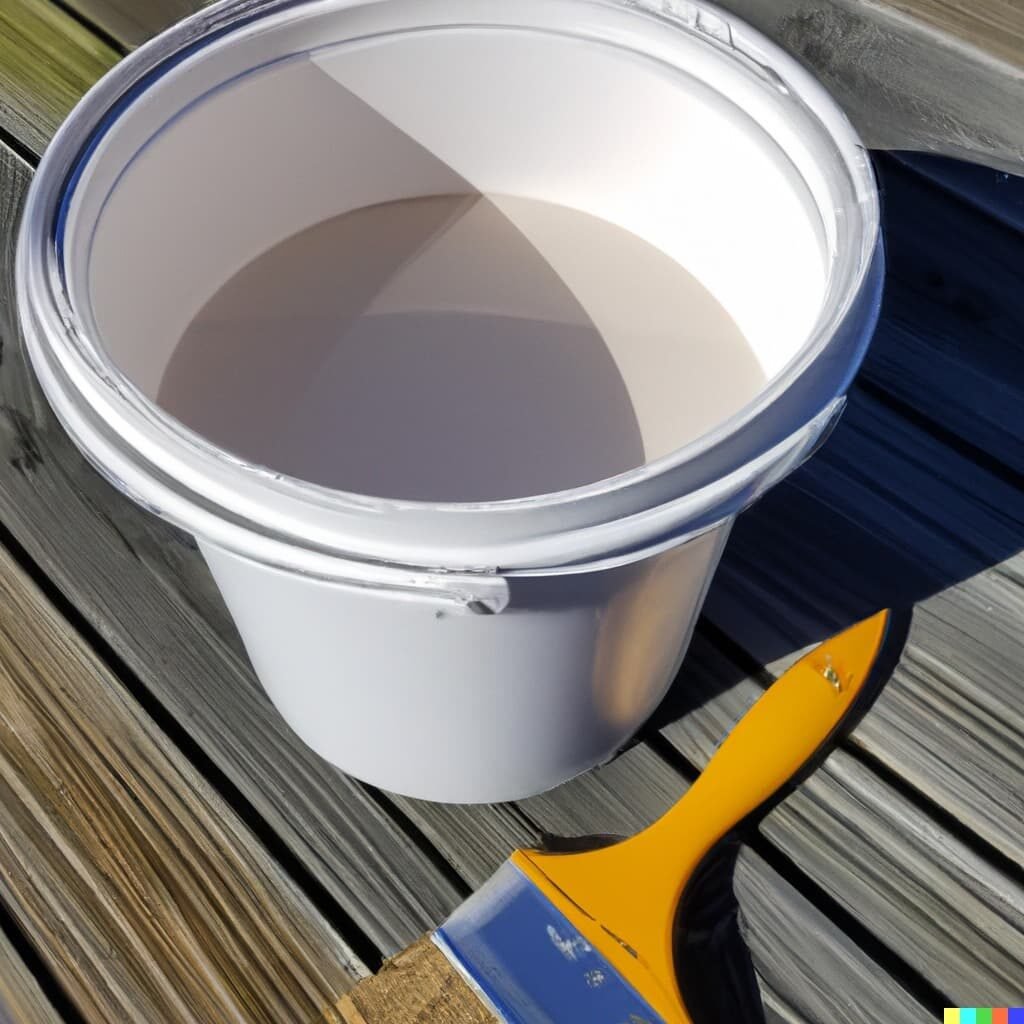 Deck paint vs stain differ in a lot of aspects, such as their composition, coverage, maintenance, price, lifespan and so on.
Paint is made of solvent, resin, additives, and pigment, while stain is made of solvent, resin and pigments.
Paint has a bigger density than stain, so when a deck is painted, it offers a thick coverage over the structure, being capable to cover every imperfection and to resist against the sun and moisture, while allowing you to choose among the variety of colors.
Stain is transparent and when in contact with the surface, with only one coat, its formula penetrates the wood and provides a natural look, highlighting its grain and texture. But unfortunately, it does not cover old damages and the ones caused by the weather.
A deck paint requires low maintenance, being necessary to paint again only 10 or more years. Cleaning the deck requires only water and soap. Whereas, even protecting against the sun, stain does not last longer, requiring maintenance every 1 or 2 years.
A deck stain is affordable to every pocket, being budget friendly, but a deck paint is more expensive, but as it has a big lifespan, it is worth investing.
Pros of deck paint
Variety of colors, for all tastes.
Requires little maintenance, can last 10 years.
Thicker finish, covering imperfections.
Longer life span.
Cleaning just with water and soap.
Resistant to sun and moisture.
Cons of deck paint
Covers the natural look of wood on the deck.
As the time passes, it can flake and peel.
Any coat that already exists has to be removed before painting it again.
The surface becomes more slippery.
It is a more expensive job than stain.
Pros of deck stain
Maintain its natural look of wood.
Budget friendly.
Easy to apply and further coats as well.
Less slippery.
Penetrate the wood grains.
Will give protection against UV damage.
Cons of deck stain
Doesn't cover flaws or cracks.
Every 12-24 months is necessary for maintenance.
Some qualities of wood will not absorb the stain very well.
Doesn't cover and hide imperfections on decks that are old and damaged by the weather.
When should you not paint a deck?
Every maintenance or change that involves chemical products, needs to be done under certain circumstances.
A deck should not be painted when it is going to rain in the next 24 hours and when the temperature is too high, because it will dry too quickly, showing brush marks. And, if it is too cold, the paint will not spread out easily, affecting the adherence.
If your deck needs some repairs, they should be done before anything else, to avoid any future problem when it is already painted, damaging the new paint and making you lose money to have everything repainted. After the repairs, the deck should be cleaned properly.
Besides this, if you want to preserve the natural appearance of wood from your deck, it is not advisable to paint it, because the paint will cover its appearance completely.
Does paint last longer than stain on a deck?
Yes, paint lasts longer than stain on the surface of a deck! A paint is a more durable chemical material that has a great finish, and if applied correctly, it will last over 10 years before repainting it.
A paint is something that requires little maintenance that only needs a deep clean once in a while, to remove any dirt or something else.
And, if it is done with knowledge and efficiently with proper methods, it will protect against moisture, climate, sunlight, cracks and the color will not fade.
When to stain a Deck?
A deck should be stained in spring or fall, when the weather is not so hot and the sun is not in direct contact to the surface of the deck. When the temperature is high, it dries quickly, leading to a premature stain failure.
It is advisable to stain your deck every 12 or 24 months, to maintain the beautiful and natural look of wood and to keep the protection it offers to the deck structure, like the protection against the UV, rain, and snow.
Besides this, if your deck was built with pressure-treated wood, it is better to stain it due to the preservatives that this type of wood contains, making harder for the paint to bond to the deck.
Build your deck with Franca Services
Whether you want to build or to replace a new deck, made of wood or composite, to paint or stain it, we, Franca Services, will be pleased to help you with this new project, to help you collect good memories in your new space.
Our team is composed of the most efficient and expert people, who will be ready to build the best new deck for you and your family.
Let us know if you have any questions or enter in contact to ask for a quote to the deck of your dreams.