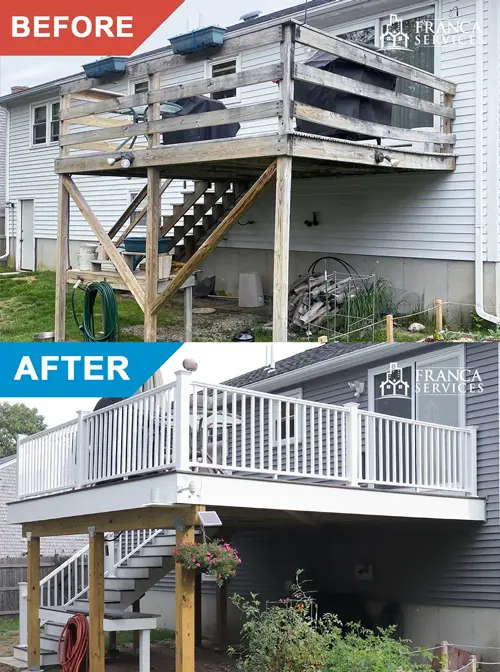 Wood Decks & Composite Decks
Many people wonder if composite decks are better than wood decks, as the answer is really based on what you want out of a deck.
Wood might be better for your lifestyle, but it does require some regular maintenance to to maintain its beauty, which could get expensive.
Composite decking is made of recycled materials, such as plastics and wood chips, and is a popular choice for homeowners because it's affordable and durable.
Additionally, it has a rich color and natural appearance. Composite decks cost much less over time but can also cost more to install.
If you want a waterproof deck for around your pool or hot tub or if you want an attractive deck that will last for decades, you should consider the upgrade to a composite deck.
KAREN K.

"Thank you so much for all your help getting everything ready. The deck looks great! Alan and his crew worked really hard. We will enjoy many nice evenings sitting out on it."
BLAINE A.

Professional and honest. My wife and I hired Franca Services to build a large (1000 sf), three-tiered deck for the back of our house.

As homeowners that have re-modeled one house and built two new, we've experienced a lot in terms of dealing with project planning, execution, problem solving and customer service.

From our first contact with their office to the last screw put into the deck, Alan and his staff were a pleasure to work with.

They always showed up on time, took time to go over the daily work that would be getting done and provided a level of customer service that not many contractors can equal.

The builder of our current home could learn A LOT from Franca Services!

My wife and I would certainly recommend Franca Services and plan on using them again in the future, which is the highest recommendation we could give. Thanks, Alan!